Desserts by the Editors of Food & Wine
November 21, 2017 by Jenny
Desserts: Over 140 of Our Most Beloved Recipes by Editors of Food & Wine is a drool-inducing collection of sweet recipes just in time for the holidays.

Desserts that will shine at the holiday table include the Poached peaches with baked ricotta or an Apple cake with cranberries. Sweet treats include Soft apple-cider caramels or Dark chocolate bark with roasted almonds and seeds will delight a hostess or are perfect for stocking stuffing. The mix of elegant, modern and classic recipes is refreshing and something I love in a dessert cookbook.

Cookies, Dutch babies, tarts, cakes, cobblers, candies and ice cream are all cover and seem approachable for any level baker. This book is deserving of our attention – whether the Chocolate peanut butter Swiss rolls call to you or the Seaweed shortbread is more your thing.
Special thanks to Oxmoor House for sharing the Chocolate chunk cookie for one with us today and for providing three copies of this book to our members in the US in our giveaway below.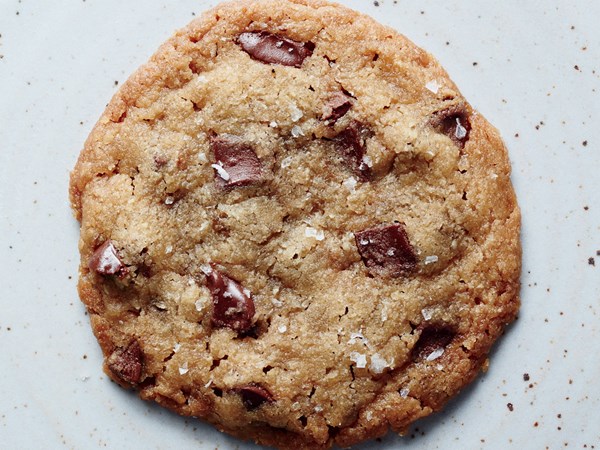 Chocolate chunk cookie for one
Add this recipe to your Bookshelf (click the blue +Bookshelf button)
Makes: 1
Time: Active 5 min; Total 25 min
Cookies always hit the spot, but you don't have to bake an entire batch to get your sweet fix. Just make this single chewy-crisp one from F&W's Justin Chapple in the toaster oven.
1 Tbsp. unsalted butter
1 Tbsp. packed light brown sugar
1 tsp. granulated sugar
1/8 tsp. pure vanilla extract
Maldon salt
2 Tbsp. all-purpose flour
1½ Tbsp. dark chocolate chunks
Preheat a toaster oven to 350°. In a small microwave-safe bowl, heat the butter until just softened, about 10 seconds. Using a fork, blend in both sugars, the vanilla and a pinch of salt. Blend in the flour, then stir in the chocolate chunks. Scoop the batter onto a parchment paper-lined toaster tray; sprinkle with salt. Bake until lightly browned, 13 to 15 minutes. Let cool slightly before eating.
Excerpted from Desserts by the Editors of FOOD & WINE. Copyright © 2017 Oxmoor House. Reprinted with permission from Time Inc. Books, a division of Time Inc. New York, NY. All rights reserved.
The publisher is offering three copies of this book to EYB Members in the US. One of the entry options is to answer the following question in the comments section of this blog post.
Which recipe in the index would you try first?
Please note that you must be logged into the Rafflecopter contest before posting or your entry won't be counted. For more information on this process, please see our step-by-step help post. Be sure to check your spam filters to receive our email notifications. Prizes can take up to 6 weeks to arrive from the publishers. If you are not already a Member, you can join at no cost. The contest ends at midnight on December 26th, 2017.