Coastline – Recipe, Review & Giveaway
October 30, 2017 by Jenny
Coastline: The Food of Mediterranean Italy, France and Spain
by Lucio Galletto and David Dale was published in the US by Interlink Books in August of this year. Prior editions in both
Australia
and the
UK
were published in March and May, respectively.
This truly spectacular book is a collection of stories, debates, beautiful images and delicious Mediterranean recipes covering salads, pasta sauces, pizza and pies, soups and stews, feasts and desserts from the fishing villages, farms and cobbled squares around the golden crescent.

The photographs spirit us away to houses magically stacked high upon mountain sides, marketplaces with colorful wares and fresh ingredients frequented and owned by beautiful people, and the vivid blue sea calmly awaiting us in the distance. These images give us a glimpse into the adventure that is the Mediterranean. I am smitten by this type of book that serves up a delicious sliver of paradise.

Shrimp in almond butter, Fried ravioli with Swiss chard or pumpkin stuffing, and a Ligurian apricot tart will deliver a taste of this beautiful region around our own kitchen table. The stories that blanket these recipes are just as lovely as the recipes themselves.

Special thanks to Interlink Books for sharing a recipe for Baked fennel with our members today and offering two copies of this book to our members in the US. Be sure to scroll to the bottom of this post to enter.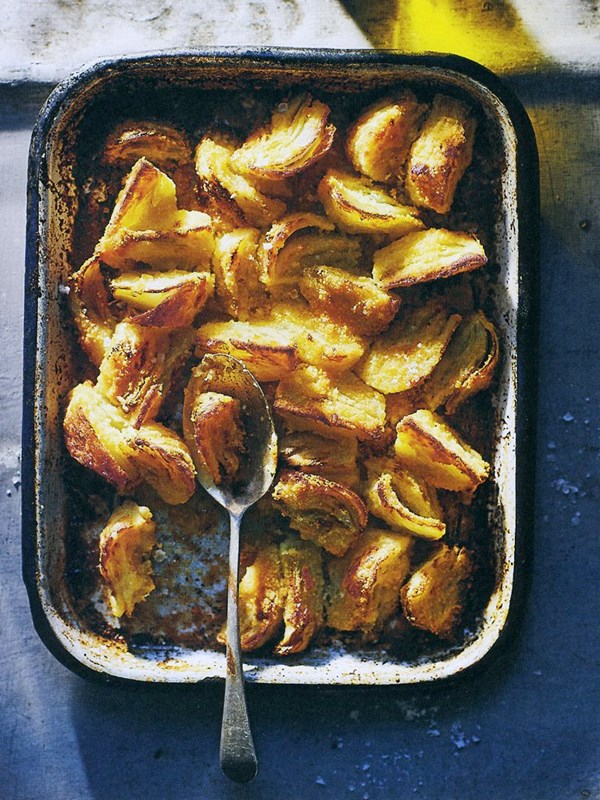 Finnocchi gratinate / baked fennel
Add this recipe to your Bookshelf (click the blue +Bookshelf button).
Fennel was a familiar favorite for the ancient Greeks and Romans, because it is native to the western Mediterranean. The Greeks called the plant "marathon," not because it lasts a long time but because it grew in profusion near the town that gave its name to the running race. Fennel is at its best in winter, and while it tastes pretty good in a salad, it's much better when it's been subjected to high heat, to bring out the sugar.
3 lb 5 oz (1.5 kg) fennel bulbs
Sea salt and freshly ground black pepper
1/3 cup (80 ml) olive oil
2 ½ tablespoons dry breadcrumbs
2 ½ tablespoons grated parmesan cheese
Preheat the oven to 350°F (180°c)
Clean the fennel and peel off the outer layers. Cut the bulbs into segments, wash them, then place them in a saucepan of boiling salter water for 8 minutes.
Drain the fennel segments, dry them well, then place in an oiled baking dish in a single layer. Season with salt and pepper, drizzle with most of the olive oil, and toss them around a bit until nicely coated in the oil.
Tip the breadcrumbs into a wide shallow bowl. Mix in the parmesan and sprinkle the mixture all over the fennel. Sprinkle with a little more olive oil and bake for a further 15 minutes, until the crumbs have turned into a lovely golden crust.
Serve hot.
Recipe from Coastline © 2018 David Dale and Lucio Galetto. Interlink Books
The publisher is offering two copies of this book to EYB Members in the US. One of the entry options is to answer the following question in the comments section of this blog post.
Which recipe in the index would you try first?
Please note that you must be logged into the Rafflecopter contest before posting or your entry won't be counted. For more information on this process, please see our step-by-step help post. Be sure to check your spam filters to receive our email notifications. Prizes can take up to 6 weeks to arrive from the publishers. If you are not already a Member, you can join at no cost. The contest ends at midnight on December 7th, 2017.