Soulful Baker – Julie Jones – Review, Recipe & Giveaway
October 29, 2017 by Jenny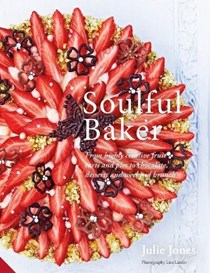 Julie Jones hits a grand slam with Soulful Baker: From Highly Creative Fruit Tarts and Pies to Chocolate, Desserts and Weekend Brunch. Using natural and colorful ingredients, interesting flavor combinations, and a designer's nod toward decoration, Julie's recipes are not only pleasuring to the eye but also to the palate.
The author learned to cook from her mother whose dishes were always packed with flavor but nothing that could be labeled fancy. When her mother was diagnosed with dementia, Julie began baking with her as a form of therapy to benefit them both. Soulful Baker is a tribute to her mom as well as a testament to the power of recreating food memories that can heal the soul.
The pastry work shared in this book is extraordinary – the White peach and nectarine tart; the Strawberry firework tart with candied pistachios and chocolate flowers (from the cover), and the Apple rose tart – are all showstoppers. There are recipes for focaccia, bread, bars and muffins as well and, of course, they are perfectly unique in their presentation. The Charlotte royale would wow even the Royals.
Soulful Baker is an exquisite book that will serve as inspiration and motivation to all to return to the kitchen and bake with someone you love.
Special thanks to Jacqui Small Books for sharing the recipe for the Deep-filled apple pie with our members today and for providing three copies of this book in our contest open to members in the US, UK and Canada.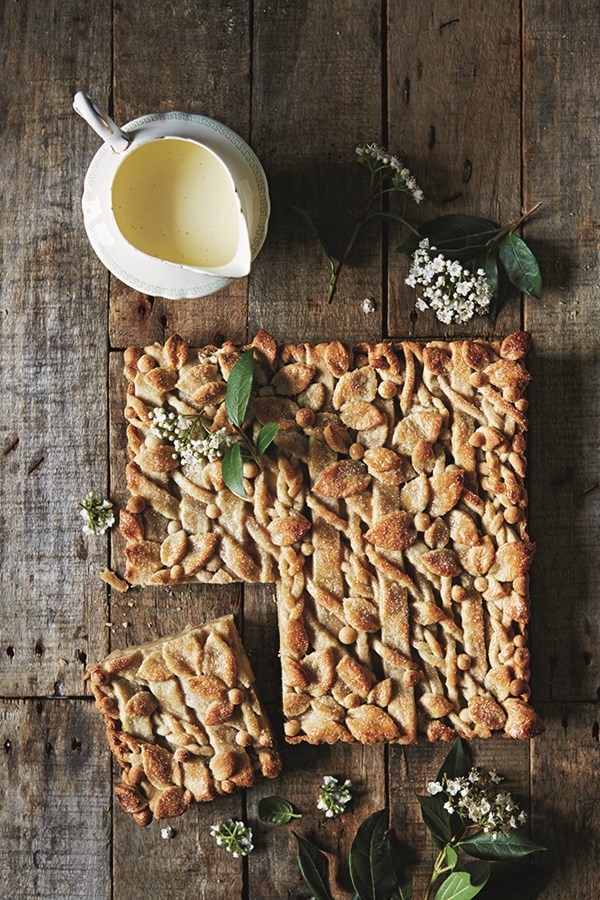 Deep-filled apple pie
Add this recipe to your Bookshelf (click the blue +Bookshelf button).

Apple pie is one of those things that most people feel nostalgic about. I have many happy memories of eating apple pies drowned in custard round at my Nana's house. She was a great baker and made pastry often, with plate cakes, fruit pies and custard tarts amongst the highlights. Oh, and the fat squares – leftover pastry cut into thick portions that were later covered in butter! Homemade custard will always be my first choice to serve alongside apple pie, a recipe for which can be found on page 137. However, I know opinion will be divided on this one, so do go ahead and use your favourite accompaniment.
Serves 8
Use a 23cm (9 inch) round, 3cm (1¼ inch) deep tart tin
Pastry
Add this recipe to your Bookshelf (click the blue +Bookshelf button)
345g (12oz/2. cups) plain (all-purpose) flour
185g (6⅓oz/. cup/1. sticks) unsalted butter, chilled and diced
75g (2.oz/. cup) icing (powdered) sugar
1 tsp vanilla bean paste (optional)
1 1/2 egg yolks
3 tbsp milk
Filling
4-8 cooking apples (depending on size)
100g (3.oz/. cup/1 stick) unsalted butter
100g (3.oz/. cup) soft light brown sugar
100ml (3.fl oz/generous ⅓ cup) water
1 lemon
1/4 teaspoon ground allspice
1/2 teaspoon vanilla bean paste (optional)
To finish: 1 egg yolk, demerara sugar
Make the pastry as instructed on page 15, adding some vanilla as a flavouring if you want to. Using one half of the pastry, line the tart tin (pan), blind bake, cool and trim, leaving the cooked pastry in the tin (pan) to be filled and finished later as instructed on pages 13-15. Keep the remaining half of pastry in the fridge to be used for covering and decorating the pie.

Peel, halve and core the apples, then roughly chop into large chunks. Place the apples, butter, sugar, water, a squeeze of lemon juice and the allspice into a pan and gently cook for 10 minutes or until the apples are just starting to break down, the butter has melted and the sugar has dissolved. Gently mix to combine, taste and add some more sugar if the apples are too sharp. Transfer to a bowl, leaving the juices in the pan and leave to cool. Add the vanilla to the reserved juices, if using, and bring to a simmer. Leave to bubble and reduce for 5-10 minutes, until thickened. Stir this back through the cooled apples and fill the blind baked pastry case (shell).

Remove the remaining pastry from the fridge and roll out between 2 sheets of non-stick baking paper to about 3mm (⅛ inch) thick. You could either cover the pie with one whole sheet of pastry, crimping the edges together and making a little hole in the middle for the steam to escape, or you could roll up your sleeves, relax and get creative!

Use pastry cutters, braids, lattices, pastry flowers, balls or cut outs to decorate your pie as you wish. There are some tips on shaping and decoration on page 19. When you are happy with the decorative pie crust, transfer the pie to the fridge for at least 30 minutes. Preheat the oven to 180°C fan/200°C/400°F/gas 6. Add a few drops of boiling water to the egg yolk and gently brush over the pastry as evenly as you can – sometimes using your fingertip is easier for covering the more intricate parts. You can sprinkle over some demerara sugar if you wish (it gives a lovely crunch to the finished pie) or leave as it is.

Bake for 30 minutes, remembering to keep an eye on the crust during baking as any smaller raised pieces of pastry may catch and burn easily. When golden, remove from the oven and serve either hot or cold with your favourite accompaniment.
The publisher is offering three copies of this book to EYB Members in the UK, US and CA. One of the entry options is to answer the following question in the comments section of this blog post.
Which recipe in the index would you try first?
Please note that you must be logged into the Rafflecopter contest before posting or your entry won't be counted. For more information on this process, please see our step-by-step help post. Be sure to check your spam filters to receive our email notifications. Prizes can take up to 6 weeks to arrive from the publishers. If you are not already a Member, you can join at no cost. The contest ends at midnight on December 5th, 2017.