Lidia's American Dream
October 27, 2017 by Darcie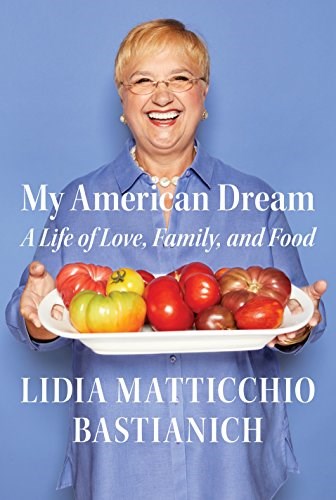 Lidia Bastianich helped create a food empire – in addition to owning six restaurants with her son, Joe, she is part owner of the New York and Chicago Eataly locations. As if this weren't enough, she has two Emmy Award-winning PBS programs, Lidia's Italy and Lidia's Kitchen, and several successful cookbooks.
While you may already know all of this, you might not know about Lidia's struggles as a refugee and immigrant. She tells her story in an upcoming memoir titled My American Dream: A Life of Love, Family, and Food. After fleeing communism in what is now Croatia, Lidia's family spent two years in a refugee camp in Trieste, Italy. Eventually they landed in the United States, when Lidia was just 12 years old. She soon began working in restaurants, the first step toward the creation of her own American dream.
In My American Dream Lidia tells in great, vivid detail the fulfillment of that dream: her close-knit family, her dedication and endless passion for food that ultimately leads to multiple restaurants, many cookbooks, and twenty years on public television as the host of her own cooking show. You can get a flavor of what will be in the book in Lidia's interview with Feast Magazine.
Lidia is originally from Istria, a region that is now part of Croatia but which was part of Italty prior to World War II. Her family lived under communist dictator Tito until 1956, when her family felt that for the sake of their children's and family's future, they had to escape. Lidia, her siblings and her mother went to Italy, telling authorities that they were going to visit an ill relative. Lidia's father eventually managed to join them in Trieste. Lidia was only ten and was crushed when she realized that she would never see her friends and family again. She explained to Feast, "I think that melancholy, that unfinished business, the way I maintained was with the smells of the food, and the flavors that reminded me of Grandma."
Lidia explains how her immigrant status led her to embrace the foods and flavors of her homeland, even as she was excited to become part of the American fabric. "This is what [my] success story, my commitment and my passion is all about," she says. "I want to share what I love and who I was with who I am, and all my new family that is American."
My American Dream will be released in April, 2018 and is available for preorder now.