Friday Flashback – Extra Virgin
September 15, 2017 by Jenny
When I saw the previews for the cooking show Extra Virgin I thought, I admit it, "For Julia Child's sake, another celebrity cooking show?" – I was judgy and I was wrong. I fell in love with this show and watched it with my son who would sing the opening credits with me – even my husband loved watching the show. It was fun, entertaining and the recipes rocked.
Then as Food Network and The Cooking Channel has a tendency to do – they remove great shows such as Extra Virgin and Heartland Table from the schedule and replace them with more reality programming. Food Network and Cooking Channel – we need shows like Extra Virgin and Heartland Table. If I want to watch someone eat a sandwich, I can watch my husband – I want to watch knowledgeable people cook!
Extra Virgin: Recipes & Love from Our Tuscan Kitchen by Gabriele Corcos and Debi Mazar is one of those books that I turn to time and again. When the book was first published, I started a group to cook through the book and one member did cook every single recipe, Belinda! Two of the recipes I have made at least a dozen times, the Pasta alla gricia and Braised pork loin. Both dishes are easy and impressive and my photos are uploaded at those links.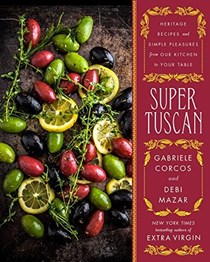 The power couple have another title coming very soon – Super Tuscan: Heritage Recipes from Our Italian-American Kitchen which will be in our hands in early October. I have had a sneak peek at an advanced copy and it is wonderful!

Pancetta scones, Meatballs with tomato-mint sauce, Tuscan fried chicken and Chocolate salume are some examples. Chocolate salume has been on my bucket list for a long time – this week, it happens.
I hope to get to Brooklyn in February when I'm back in New York and check out The Tuscan Gun – Gabriele's cafe. That's another bucket list item (my list is long and usually involves food in some manner).
Italian food and cookbook lovers – you need these books. Be sure to check them out.
Exciting news – Gabrielle and Debi have graciously agreed to be a part of my How Does your Collection Stack Up series – check out that piece here.