Chicken on the Menu – Review, recipe and worldwide giveaway
August 29, 2017 by Jenny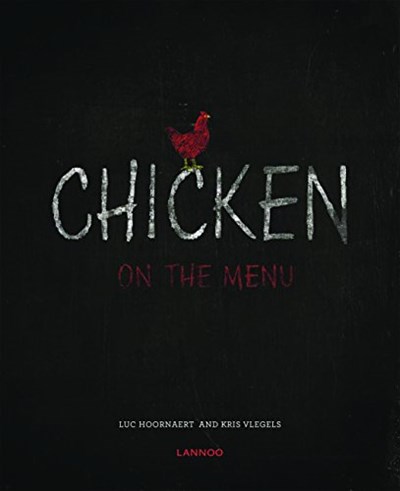 Chicken on the Menu by Luc Hoornaert and Kris Vlegels shares sixty recipes from famous chefs – such as Bocuse and Georges Blanc – for one of the most versatile proteins – chicken.
Full page photographs of the dishes, portraits of the chefs featured, and narrative on the background and history of the recipes – all weigh in to make this a full tutorial and go-to reference for cooks of every level.
Recipes range from a Pulled Chicken Sandwich, Tandoori Pollo in Pancetta to Chicken in Pig's Bladder – reflecting the full range of down-home – to global – to upscale fine dining type dishes. The inspiration alone gathered from the pages of Chicken on the Menu is priceless.
Measurements are given in metric weight and you will need to be able to follow sparse instructions at times. For example, there is no recipe for dashi stock which is an ingredient in the recipe we're sharing today but a search using our online recipe feature delivers an index recipe from Serious Eats to utilize. A bit of ingenuity will assist in completing recipes with no problem.
Most of us have heard the question – which came first – the chicken or the egg? In this case, Chicken on the Menu was written first – followed by Egg on the Menu (which will be the subject of a promotion this week as well.) Both books are beautiful and are welcome additions to my library.
Special thanks to Lannoo, the publisher, for sharing the recipe for Mizutaki for our members to try now along with offering two copies of this title to our members worldwide. Please be sure to enter our giveaway below.
Mizutaki
Add this recipe to your Bookshelf (click the blue +Bookshelf button).

Ingredients

1 litre dashi stock
3 boneless chicken thighs
optional: a piece of white fish and some crustaceans
50 g tofu
1 spring onion, finely chopped
a couple of shiitake, sliced
1 onion, shredded
1/4 Chinese cabbage, washed and cut into strips
1 carrot, sliced
1 carton of enoki mushrooms, wiped and with roots removed
20 g spinach leaves
For the sukiyaki sauce
200 ml mirin
100 ml sake
200 ml soy sauce
80 g sugar
Heat the dashi stock with some of the sukiyaki sauce.
Cut the ingredients into similar sizes so that they will cook at about the same rate.
Boil all the ingredients in the stock, in order of cooking time – i.e. the chicken first and the spinach last – so that all the ingredients are cooked properly.
The publisher, Lannoo, is offering two copies of this book to EYB Members worldwide. One of the entry options is to answer the following question in the comments section of this blog post.
Which recipe in the index would you like to try first?

Please note that you must be logged into the Rafflecopter contest before posting or your entry won't be counted. Please be sure to check your spam filters to make sure you receive our email notifications. Prizes can take up to 6 weeks to arrive from the publishers. If you are not already a Member, you can join at no cost. The contest ends at midnight on October 8th, 2017.