Sweet by Ottolenghi
August 17, 2017 by Jenny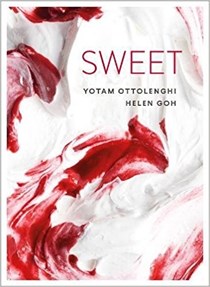 The UK release date of Sweet by Yotam Ottolenghi and Helen Goh is less than a month away! It feels like we have been waiting forever, right?
As the publisher did with Nopi's release, if you preorder Sweet from any online retailer in the UK you will receive a digital access code with the book. This will enable you to review the recipes and content digitally once the book is published.
If you wish to pre-order, using our BUY BOOK option and choosing Amazon UK or Book Depository UK, will provide EYB with a small affiliate fee which assists in our indexing efforts. For those fans who would like a signed copy, you can order one through the Ottolenghi store.
Fresh, evocative ingredients, exotic spices and complex flavourings – including fig, rose petal, saffron, aniseed, orange blossom, pistachio and cardamom – to indulgent cakes, biscuits, tarts, puddings, cheesecakes and ice cream are the foundation for this title. The recipes range from simple mini-cakes and cookies that parents can make with their children to fancy layer cakes and roulades that will inspire the most accomplished of bakers.
Sweet includes over 110 innovative recipes, from Blackberry and Star Anise Friands, Tahini and Halva Brownies, Persian Love Cakes, Middle Eastern Millionaire's Shortbread, and Saffron, Orange and Honey Madeleines to Flourless Chocolate Layer Cake with Coffee, Walnut and Rosewater and Cinnamon Pavlova with Praline Cream and Fresh Figs.
Any book by Ottolenghi is highly anticipated in the culinary world, but this title has everyone buzzing including those who profess to be non-dessert lovers!

September 7th, we're ready!