Friday Flashback – Brown Eggs and Jam Jars
July 28, 2017 by Jenny
Brown Eggs and Jam Jars: Family Recipes from the Kitchen of Simple Bites
by Aimée Wimbush-Bourque is the subject of today's Friday Flashback. Aimée's book came to mind while updating the library in anticipation of her October release (more about that later) – it appears this will be a Flashback and Flashforward piece!
Brown Eggs and Jam Jars
contains over one hundred recipes that are geared to involving the whole family with a whole foods type of approach. Aimee grew up a homesteader and worked as a professional chef and many of the recipes speak to that experience and how she lives now as a busy mom. She provides us with tips to live the homesteading life even if we are in an urban setting.
Divided by seasons, the book contains tasty options for each. Spring shares recipes such as buttermilk buckwheat pancakes, maple pecan butter tarts and shrimp and egg fried rice with green garlic and radish chive butter. I made the maple pecan butter tarts when the book first came out and now I am reminded I must bake them again so I can photograph them for EYB.
Summer is all about the outdoors. Grilling information and recipes for being on the go including backpacker's banh mi, orangette chocolate oat bars, and roasted cherry molasses cookies. Fall sweeps in with the harvest chapter and dishes for summer squash and parmesan galette, quick marinated golden beets and caprese salad with fresh thyme drizzle. The canning section will calm any fears you may have regarding tackling preserving and includes recipes for Baba's sweet mustard pickles, Fall fruit chutney with cashews and currants and strawberry-honey jam with orange zest. The strawberry-honey jam is so delicious – that will need to be made again soon.
|
The winter and holiday chapters were filled with delights to bring to your table – cranberry clementine relish, honey ginger sweet potato puree, and cinnamon shortbread bars with dark chocolate ganache. There is also a section on Sunday dinners, holiday meals as well as pantry staples.

This book is perfect for everyone – a new cook because it contains so much wonderful information and the seasoned cook who wants to bring more home grown, whole foods to their table and encourage their family to join in with the preparation and celebration of preparing a meal and sharing it together.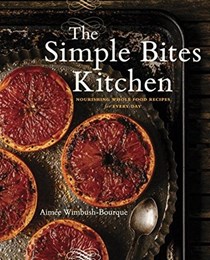 Now, let's talk about Aimée's new title that is coming this October –
The Simple Bites Kitchen: Nourishing Whole Food Recipes for Every Day
. Just look at that cover! It promises to be amazing – sharing more of the popular blogger's love of whole foods along with heart-warming kitchen stories and recipes. Aimée knows the challenges that come with feeding a family and tackles them head on by providing lunchbox inspiration, supper solutions and healthy snack options in this second offering. We will be doing a full promotion on
The Simple Bites Kitchen
upon publication. When I have more information about this new title and the author's book tour events, we will share it will you.