So Good – Richard Blais
July 27, 2017 by Jenny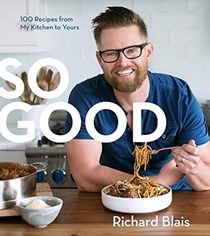 So Good: 100 Recipes from My Kitchen to Yours by Richard Blais Top Chef alum, winner and now judge, recently hit the shelves. This book follows the success of his first title, Try This at Home, with more creative yet unfussy recipes. Improved classics, options for adventurous cooking, nose-to-tail cooking and new favorites of his family are all shared.
Classics that have received the chef's magic touch include Fava Bean Hummus with White Anchovies, Tuna Wellington and Coconut Milk and Chicken Soup. While the book's focus isn't on the author's trademark molecular gastronomy smoke and mirrors routine, there are a few recipes that can help you try out those techniques should you feel motivated. Also offered are nose-to-tail cooking including Barbecue Lamb's Head Carnitas with Masa Pork Cheeks and Pineapple as well as some of his family favorites – Triple-Cooked Fries, Chicken with Garlic and Rosemary, and Marshmallow Ice Cream.
Overall, a nice collection of recipes that leaves room to please everyone. I am excited to try a number of these recipes – an incredible looking Bone-In Salisbury Steak with Tater Tots and Cherry Ketchup – which updates the classic salisbury steak and potatoes meal to gourmet status, Roast Chicken with Pineapple Vinegar and Chile and Crack Shack Fried Chicken, Nashville-Style.
Special thanks to HMH and the author for sharing the following tasty recipe with our members. Be sure to head over to our contest page to enter our giveaway.
CONCORD GRAPES AND RICOTTA TOASTS
This one is so femme, it could be served in the dressing room at Anthropologie. Being so easy, light, and airy, it's a perfect Sunday brunch dish. The key is to cook the grapes long and hot enough so that they shrivel and resemble olives. This culinary illusion elevates the sweetness of the toasts because you expect salty, not sweet, when you bite into one.
SERVES 5 or 6
5 or 6 thick slices sourdough bread
5 cups ricotta cheese, drained in a colander for about 1 hour
Grated zest and juice of 3 large lemons
Kosher salt
8 cups Concord grapes (3 ½ to 4 pounds)
¼ cup Concord grape vinegar or balsamic vinegar
Mustard flowers, for garnish (optional)
Preheat the oven to 400°F.
Grill or toast the bread until golden. Set aside.
In a mixing bowl, stir the ricotta with the lemon zest and juice and a pinch of salt.
Spread the grapes in a single layer on a baking sheet, sprinkle with a little salt, and roast for about 1 minute. Turn off the oven and let the grapes sit in the hot oven until wrinkled and softened, about 10 minutes.
Spread the ricotta on the toast and then top with the roasted grapes. Drizzle with the vinegar, garnish with mustard flowers, if using, and serve.
Text excerpted from SO GOOD© 2017 by Richard Blais. Reproduced by permission of Houghton Mifflin Harcourt. All rights reserved.
Add this recipe to your Bookshelf (click the blue +Bookshelf button).