Friday Flashback – Spuntino
July 14, 2017 by Jenny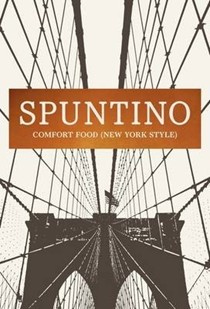 Recently, I was reminded about how much I love the cookbook
Spuntino: Comfort Food (New York Style)
by Russell Norman when it showed up on my recently indexed book list.
Norman is also the author of
Polpo: A Venetian Cookbook (of Sorts)
and a restaurateur. Over the last two decades he has worked in many of London's landmark restaurants in every capacity from waiter to an operations director. In 2009 he started an independent restaurant company with his best friend and has since opened eight restaurants in central London including Polpo, Spuntino and Mishkin's.
In
Spuntino
, Norman details his love affair with New York that began even before setting foot in the city (the power of cinema). In 1999 when his plane hit the tarmac at JFK – he fell into a full-blown obsession. The foods and flavors of New York sparked an idea for a London restaurant that would bring the small plates of the Big Apple to London. Soon after, Spuntino, the restaurant, came to life.
Just as his title
Polpo
is a stunning book,
Spuntino
does not disappoint. Photos that bring the city of New York to the page make me long for home. The shots of the dishes will have you hungering to get into the kitchen to create all that Spuntino has successfully created – a brillant taste of New York just a dash of UK charm. These recipes are homey but elevated dishes that any cook can master.
I've made the Bourbon & Vanilla French Toast back in 2015 when the book first came out and the Bourbon, Pecan & Chocolate Cake – and it was perfection. Yes, I went through a bourbon stage. Don't judge me. The recipes range from Beef & Bone-marrow Sliders, Red Gurnard, Samphire, Cucumber & Borage to Prawn Po' Boy and Cornflake Chicken. Elegant dishes to simple comfort food perfectly describes the taste of New York comfort food that
Spuntino
delivers especially for those of us who yearn for its wild embrace.

Each Friday, I am going to bring you a cookbook that I have fallen back in love with and hopefully that will have us all dusting off favorites and re-exploring the treasures that lie within.