Master Recipes by the Editors of Food and Wine
June 24, 2017 by Jenny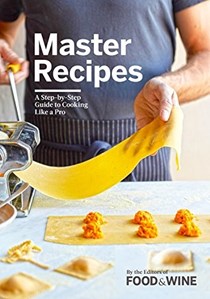 Master Recipes: A Step-by-Step Guide to Cooking Like a Pro by The Editors of Food & Wine appeals equally to new and experienced cooks. The new cook will love the step-by-step approach and process photos to guide them (homemade ricotta, roasting a turkey). The experienced cook will also love those points but more as a way of perfecting their skills and perhaps even expanding upon them (make your own ramen noodles, croissants).

The book is organized by levels. Level One wherein you master basic cooking skills such as macaroni and cheese, biscuits, pickling, etc. Level Two takes us up a rung to pulling our own mozzarella, sous vide techniques and soufflés. Level Three is geared toward intermediate work such as perfect challah, meringue, sausage making and more. By the time you reach Level Four, you are ready to make your own ramen noodles, tofu and beautifully pleated soup dumplings.

Master recipes include the Ice Cream Birthday Cake, Pork and Crab Dumplings, Tempura and more. Making a turkey for the first time – it's here, fried chicken, sauerkraut and French onion soup. Make ahead tips and wine suggestions are offered as well. Food & Wine does it again with another book that will be sure to be a classic.
Special thanks to Oxmoor House for sharing the recipe below with our members. Once you are done here head to our contest page to enter our giveaway for one of three copies of this book.
Macaroni and Cheese with Buttery Crumbs


Everyone has an opinion on what makes the ideal macaroni and cheese. New York City-based cookbook author Grace Parisi prefers a classic American version that's rich and creamy thanks to a quick béchamel. Small chunks of gooey cheddar and Colby flavor the dish throughout, while a sprinkling of buttery breadcrumbs gives every bite a terrific crunch.
Time 45 min active 1 hr 30 min total

Makes 6 servings
5 Tbsp. unsalted butter,
plus more for greasing
3 Tbsp. all-purpose flour
2½ cups half-and-half or whole milk
1 lb. sharp cheddar cheese, cut into ½-inch pieces
½ lb. Colby cheese, cut into ½-inch pieces
1 Tbsp. Dijon mustard
Pinch of freshly grated nutmeg
Pinch of cayenne
Kosher salt and black pepper
1 lb. elbow macaroni
¾ cup plain dry breadcrumbs
Preheat the oven to 350°. Generously butter a shallow 2-quart baking dish. Melt 3 tablespoons of the butter in a large saucepan. Add the flour and cook over moderate heat for 2 minutes, stirring constantly (First photo). Add the half-and-half and cook, whisking constantly, until thickened, about 3 minutes. Add half of the cheddar and Colby cheeses and cook over low heat, stirring, until melted. Stir in the mustard, nutmeg and cayenne; season the cheese sauce with salt and black pepper.
Meanwhile, cook the elbow macaroni in a large pot of salted boiling water until al dente. Drain very well. Return the macaroni to the pot. Add the cheese sauce and the remaining cheese and stir until combined (Second photo). Spread the macaroni in the prepared baking dish.
In a small glass bowl, melt the remaining 2 tablespoons of butter in a microwave. Add the breadcrumbs, season with salt and black pepper and stir until evenly moistened. Sprinkle the buttered crumbs over the macaroni and bake for about 45 minutes, until bubbling and golden on top (Third Photo). Let stand for 15 minutes before serving.
MAKE AHEAD The assembled dish can be refrigerated overnight. Bring to room temperature before baking.

WINE suggestion: Buttery, full-bodied Chardonnay.
Add this recipe to your Bookshelf (click the blue +Bookshelf button)