A Year of Beautiful Eating – Madeleine Shaw
May 30, 2017 by Jenny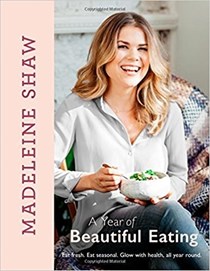 A Year of Beautiful Eating: Eat Fresh. Eat Seasonal. Glow with Health, All Year Round by Madeleine Shaw, bestselling nutritional health coach, guides you in the right direction to eat for health all year round.

With over 100 nutritious and wholesome recipes packed with flavour and medicinal benefits, Madeleine focuses on the importance of eating in tune with nature and supercharging your plate with what your body needs to look and feel beautiful season by season.

Not only are these recipes good for you but they are definitely tempting as well – a Cashew Loaf that contains no flour but looks as delicious as any regular loaf of bread which I am anxious to try due to some gluten issues in our home. Steak Fajitas with Roasted Peppers and Corn, Chicken Breast with Spiced Carrots and Cauliflower Tabbouleh, and Sweetcorn Fritters with Tomato Salsa and Avocado are other examples of totally crave-worthy meals that you will find here. And don't forget sweet treats – Madeleine has plenty of those in store for us such as Raw Chocolate and Coconut Bars, Plum and Almond Cake, and Upside-Down Banana Cake.

A Year of Beautiful Eating is packed with gorgeous photographs of scrumptious food. Special thanks to the publisher and author for sharing a delicious potato salad that you can try at your next outdoor (or indoor) party. Head over to our contest page to enter our giveaway for one of three copies of this title – open worldwide.
Oregano-Infused Potato Salad with Fennel and Leeks


Potatoes have had a bad rep over the years. Sure, they are a bit carby, but cold potatoes are rather spectacular. You see, cold potatoes contain lots of starch . . . which is amazing for your gut. And a healthy gut means clear skin, so let's get munching on those spuds – yum!

Serves 4

2 leeks, trimmed
1 tbsp avocado oil or butter
salt and freshly ground black pepper, to taste
400g Jersey Royals
50ml veggie or chicken stock, just boiled
sprig of fresh oregano, leaves picked and chopped
100g rocket
1 fennel bulb
2 spring onions
30g walnuts, roughly chopped
2 tbsp chopped fresh parsley
1 tbsp olive oil

Finely chop the leeks into thin slivers. Heat the oil in a large pan and sauté the leeks with a pinch of salt and pepper for 20 minutes, until golden and caramelised.

While the leeks are cooking, boil the potatoes in a pot of simmering salted water for 20-25 minutes until tender. Drain them and slice in half, then put back into the same pot you cooked them in. Pour over the hot stock and add the oregano and a pinch of salt. Leave while you prep the rest of the salad.

Place the rocket in a bowl. Thinly slice the fennel with a mandolin into fine ribbons and add to the rocket, then tip in the cooked leeks and potatoes. Finely chop the spring onions and throw them over the salad, along with the nuts, parsley, a big pinch of salt and the olive oil. Toss and serve.