Ottolenghi to be guest judge on Masterchef Australia
May 28, 2017 by Darcie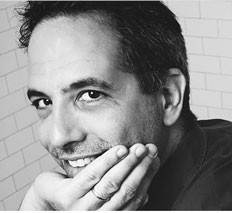 Masterchef Australia fans will get a special treat the week of June 4, as Yotam Ottolenghi will be the guest judge. As you might expect from the vegetable-centric cookbooks he has penned, the challenges will feature plenty of plant-based ingredients.
One of the challenges will be to prepare a vegetarian feast that will win over meat lovers. "I was hoping they would have enough confidence to leave the vegetables largely alone," Ottolenghi said of the Masterchef competitors. "Not everything needs to be blitzed, pureed or julienned. A carrot is most beautiful to me when it still looks like a carrot."
If you have read any of his five hugely popular cookbooks, you already know that Ottolenghi's signature style involves plenty of vibrant colors, stunning presentations, and bold flavors. "Nowadays, the most creative chefs are working solely with vegetables," he says. "People's perceptions of vegetables, what they are, their importance, how versatile they are, the whole perspective, has changed completely," he continues.