Artisanal Burger by Enzo De Angelis and Antonio Sorrentino
May 24, 2017 by Jenny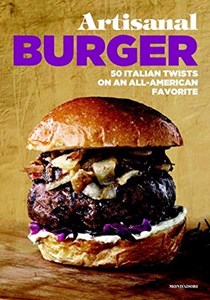 Artisanal Burger: 50 Italian Twists on an All-American Favorite by Enzo De Angelis and Antonio Sorrentino offers recipes for hamburgers stemming from traditional Italian cuisine alongside recipes for French fries, salads, and sauces.

No longer the humble fast food iconic offering, burgers have entered gourmet status. With this beautiful book, you can mix up the burger with Italian flavors, artisanal breads and a range of toppings to make you the envy of all the backyard parties this season. Rosemary sauce, carrot and cumin mayonnaise, redcurrant glaze and walnut pesto are just a few offerings from the condiment section that on their own will elevate your burgers. In the mood for something different, the goodyburger with rosemary, pork and a cherry sauce is one option or if you wish to stay more traditional – the loungeburger made with a beef patty and the addition of prosciutto and provolone strays far enough to make it special but not too far to upset traditionalists.

This is the ideal gift for dad for Father's Day or the perfect hostess gift for your favorite burger guru. Special thanks to the publisher for sharing one of the gourmet burgers here with us today. Be sure to head over to our contest post open to US and Canada members for a chance to win a copy of Artisanal Burger.
Upperburger

1 bun
1 zucchini
1 leaf iceberg lettuce
1 lemon
1 clove garlic
30 g curry sauce
butter
extra-virgin olive oil
salt
shrimp patty
150 g peeled shrimps
50 g potatoes
fresh coriander
double salt
black pepper
Prepare the curry sauce (see "below").

Spread a layer of double salt on an oven tray. Wash the potatoes and place them on the tray and cook in the oven at 180°C for about 1 hour. Once cooked (test using a toothpick), allow them to cool and then peel them.

To make the carpaccio of the zucchini cut them into ribbons, blanch them in a hot skillet and season with olive oil, garlic, salt and lemon zest.

On a cutting board coarsely chop the shrimps with a knife, add the freshly chopped coriander, adjust for the salt and black pepper crushed coarsely.

In a bowl, mix the chopped shrimp with the coarsely chopped potato.

Using a slightly greased round pastry cutter 12 cm in diameter, shape the patty and cook it on a smooth griddle. Allow two or three minutes per side for it to cook till rosy.

Cut the bun in half, spread the two slices with a little softened butter and brown them in a nonstick skillet.

Put the base of the bun on a cutting board, spread it with the curry sauce, add a sprig of julienned iceberg lettuce, then add the patty and the carpaccio of zucchini.

Spread the other half of the bun with curry sauce and cover the burger.


serve with TRAMINER AROMATIC WHITE WINE

Curry Sauce

150 g mayonnaise
150 g yogurt
1 apple
½ onion
5 g curry powder
30 g butter, clarified if possible

Heat the butter in a pan, add the diced onion and apple. Cook till soft, adding water as needed, and mix in the curry powder. Once cooked allow to cool, then blend lightly and at the end mix in the yogurt and mayonnaise with a spatula.