The Really Quite Good British Cookbook Review and Recipe
May 16, 2017 by Jenny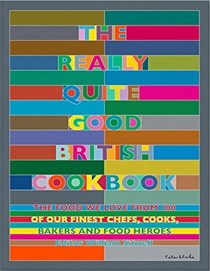 The Really Quite Good British Cookbook: The Food We Love from 100 of Our Best Chefs, Cooks, Bakers and Local Heroes edited by William Sitwell shares 100 of Britain's food heroes most beloved recipes and proceeds from the sale of this gorgeous book supports the work of the Trussell Trust which operates food banks across Britian. The only thing that makes me happier than a perfect cookbook – is a perfect cookbook doing good work.

Nigella Lawson divulges how to bake her Chocolate Guinness Cake and Rick Stein fries up Shrimp & Dill Fritters with Ouzo. Yotam Ottolenghi serves Pea & Mint Croquettes and for Jamie Oliver, an unrivalled Fantastic Fish Pie. These are just a few of the incredible recipes provided by the best and brightest on the British food scene, including chefs such as Raymond Blanc, Gordon Ramsay, Delia Smith, Mary Berry, James Martin, Nigel Slater, Thomasina Miers, Mark Hix, Jason Atherton, Marco Pierre White, and Claudia Roden.
The book is organized by course – Breakfast; Entrees & Sauces; Fish & Seafood; Poultry, Meat & Game; Pasta, Risotto & Sides; and Baking & Desserts. It is a celebration of the breadth, creativity and richness of Britain's food culture and food that is really quite good. There are stunning photographs throughout of each dish as well as of the contributors and the mini-profiles of the chefs are a lovely addition.

Want to impress a guest who has the demeanor of Gordon Ramsey with a dull knife – make Richard Bertinet's Duck Pie – it is breathtakingly showstopping. Not a lot of time on your hands – try the Pot-Roast Chicken with Chicory from Lucas Hollweg – a little prep time and then into the oven it goes and still you have a show stopper. These recipes are the best of the best and I am relishing every minute reading through them and planning the feasts to be shared with others.

Special thanks to Nourish Books for sharing one of the recipes from this book. Just in time for picnic and outdoor parties – this potato salad is right up my alley and recently I made a version of it – refreshing and screams spring. Head over to our contest page to enter our giveaway that is open to members in the US, UK and Canada. You want this book.
WARM NEW POTATO SALAD WITH MINT LEAVES & CHIVES
SERVINGS: 4 | PREP TIME: 10 MINS | COOK TIME: 20 MINS | SKILL LEVEL: 1 (EASY)

INGREDIENTS

500 g (1 lb 2 oz) new potatoes, halved or quartered
5 tbsp extra-virgin olive oil
2 tbsp orange wine vinegar
sea salt flakes, to taste
½ tsp black peppercorns, crushed in a mortar and pestle
a handful of fresh mint leaves, torn
about 5 chive stems, with flowers

DF, GF, V

METHOD

Bring the potatoes to the boil in a pan of cold water and cook for 15 minutes, until tender. Drain and allow to cool slightly, then tip into a serving dish and drizzle the oil and vinegar over, as well as plenty of sea salt flakes and the black pepper. Toss through the herbs and flowers. Serve.
Add this recipe to your Bookshelf (click the blue +Bookshelf button)