Cookbook Giveaway – The Really Quite Good British Cookbook
May 16, 2017 by Jenny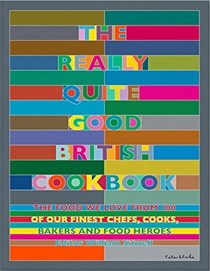 The Really Quite Good British Cookbook: The Food We Love from 100 of Our Best Chefs, Cooks, Bakers and Local Heroes edited by William Sitwell shares 100 of Britain's food heroes most beloved recipes and proceeds from the sale of this gorgeous book supports the work of the Trussell Trust which operates food banks across Britian. The only thing that makes me happier than a perfect cookbook – is a perfect cookbook doing good work.
For more information on this title, please see our review and recipe post.
We are pleased to offer three copies of this title to our EYB Members in the US, UK and Canada. One of the entry options is to answer the following question in the comments section of this blog post:
What recipe in the
index
would you like to try first?
Please note that you must be logged into the Rafflecopter contest before posting or your entry won't be counted. If you are not already a Member,
you can join at no cost
. The contest ends at midnight on
June 20th, 2017
.