Spice support: loomi (black lime/dried lime)
April 29, 2017 by Darcie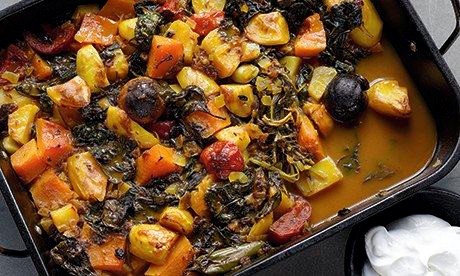 Today's installment of our weekly series on spices and herbs arrives via a Member request. After purchasing loomi (aka black limes or dried limes) for a recipe, she was curious as to other uses for this spice, so we hit the books to see what we could find out about this Persian flavoring agent.
As the alternate names for loomi indicate, the spice is made from limes. The process is a bit more involved than just letting your limes get rock hard in the refrigerator, however. According to The Kitchn, to make loomi, Persian limes "are boiled in salt water and then left to sun dry. The final product appears shrunken, deflated, and vary in color from tan to very dark brown." The salt water bath helps to dehydrate the limes and keep mold from forming. If you are feeling adventurous, you can try to make your own dried limes.
Yotam Ottolenghi, writing in Plenty More, explains that dried limes (and sometimes lemons) are frequently found in Iranian cooking, contributing "a sharp tang and sweetish aroma to marinades, stews, and salads." The flavor is also described as sour and slightly fermented. The DIY dried lime page says that once you try them, "you will never touch lemon pepper again."
Loomi/black limes/dried limes are very hard and it takes some work to grind them. To do this at home, Padma Lakshmi (in The Encyclopedia of Spices and Herbs), instructs you to first wrap the limes in a towel and then hit them with a mallet or hammer to shatter the brittle fruit into pieces. The resulting shards can be ground in a spice grinder or with a mortar and pestle.
Because they can be a challenge to grind, dried limes are often used whole in soups and stews. Pierce the lime with a sharp knife or skewer to allow the cooking liquid to enter and absorb the flavors. Give limes a squeeze at the end of the cooking process and remove before serving.
You will find dried limes in Middle Eastern soups and stews, like the Iranian vegetable stew with dried lime from Plenty More pictured above. Loomi is also used to flavor pilafs and other rice dishes and as a rub for fish, poultry, and meats. Occasionally dried lime is added to the spice mix baharat. You can purchase dried lime in powder form, although as with most pre-ground spices the flavor is not as intense as the whole dried fruit. Ottolenghi notes that you can substitute sumac or grated lemon zest for dried lime, but the flavor will not be as pungent.
When searching the EYB Library for this spice, it is best to use the term "dried lime" (using the quotation marks), as that is the form most often used. Popular Middle Eastern cookbooks like The Saffron Tales, Sirocco, Persiana, and The New Persian Kitchen, among others, have recipes that call for this spice. If you don't have any of those cookbooks, you can try one of these recipes from the EYB Library:
Iranian-style lamb shoulder with cranberry and pistachio spiced rice from Australian Gourmet Traveller Magazine by Alice Storey
Artichoke, black lime, dill and lemon stew from Ms. Marmite Lover by Kerstin Rodgers
Lamb with split peas, dried lime and aubergines from The Edible Atlas by Mina Holland
Persian pilaf with lime and green beans from Madhur Jaffrey's World Vegetarian
Quinoa salad with dried Iranian lime from Plenty by Yotam Ottolenghi
Lentil soup with dried lime from Sweet Paul Magazine