Cookbook Giveaway – The $50 Weekly Shop
March 31, 2017 by Jenny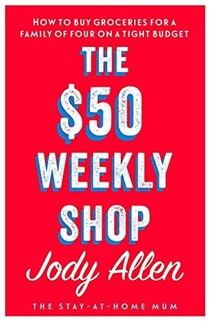 The $50 Weekly Shop: How to Buy Groceries for a Family of Four on a Tight Budget by Jody Allen of Stay at Home Mum fame, promises to provide you with a step-by-step guide on how to get your family grocery budget down to only $50. Seems impossible right? But, this title will help you set up your grocery budget, create delicious meals that cost less, and make the most of every grocery purchase.

$50 Weekly Shop features 224 recipes, meal plans, sample grocery lists and advice on how to grow and make your own food. From condiments to making your own sweetened condensed milk to entrees – Allen has you covered.
We are pleased to offer one copy of this title to our EYB Members in Australia only.
One of the entry options is to answer the following question in the comments section of this blog post:

Would you be able to feed your family on $50 a week?

Please note that you must be logged into the Rafflecopter contest before posting or your entry won't be counted. If you are not already a Member, you can join at no cost. The contest ends at midnight on April 30th, 2017.