Sicily: Recipes from an Italian Island
March 29, 2017 by Jenny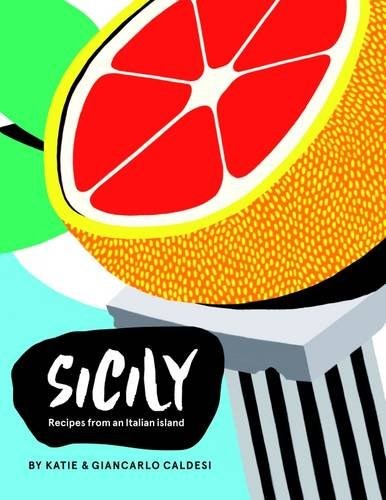 Sicily: Recipes from an Italian Island by Katie and Giancarlo Caldesi is a visual feast of Sicily's rich history with absolutely stunning photographs as vibrant and fresh as the food itself. Sicilian food has Italian as well as Greek, Spanish, French, and Arab influences.

The beautiful people of Sicily, the artisans and landscape are wonderfully portrayed in this title. This couple never disappoint and yet, again, have written a book that any lover of Italian cuisine must have. They whisk the reader away on their adventures with their words and photographs and then gild the lily with delicious recipes.

The Caldesi collection of work is impressive and I own almost all of them. The recipes turn out and present beautifully – that always seems to be a given with Italian dishes, simple but refined, not overly pretentious just fresh ingredients made perfectly. A sampling of recipes that caught my attention are Cauliflower in Red Wine, Sweet & Sour Aubergines with Toasted Almonds, a gorgeous Ricotta Cake, Ravioli Stuffed with Ricotta & Lemon, and Orange & Basil Risotto I have all the ingredients to make the Cauliflower and Aubergines and I'll report back with my results. The Ricotta Cake will be on my Easter table and the Ravioli and Risotto are slated for the next two Fridays (Lent for our family). I'm excited to make these dishes and share photographs on this post which will be updated.
Special thanks to Hardie Grant for sharing this beautiful Rice Timbale with our members. Please check out our contest page where we are giving away three copies of Sicily to our members in the US.
Rice timbale (TIMBALLO DI RISO)

Salvatore, our guide around Palermo, likened Sicilian culture to lasagne, with each layer a different layer of history. You can take a bite from the lasagne but you cannot separate the layers; you bite into them all together. It is the same with the Sicilian dish of timballo, named after the timbale, the mould it is cooked in.
Rice timbale is an elaborate layered dish from eastern Sicily, which is said to derive from Catania during the time of the Arab occupation. There are probably hundreds of variations of timbale; some are made with penne and I have seen ones made with spaghetti. In fact, it is a good way to use up leftover risotto or pasta. And do try layers of roasted aubergine (eggplant), flavouring the rice with saffron or adding cooked mushrooms, for a few ideas. I spent a day working with our chef Gregorio Piazza from Augusta, near Catania, and we invented our own version, taking into account our children's preferences and what we thought people would realistically make at home. It is gluten-free and can be adapted to a filling of your choice. Gregorio said proudly that it looks British but it tastes Sicilian! Our children love it and it is not complicated to make. You can leave it in an ovenproof dish or go for the 'wow' factor and cook the timbale in a cake tin, which can be removed after cooking.

Serves 8-10

5 tablespoons extra-virgin olive oil
50 g (2 oz / 1/2 stick) salted butter
1 shallot or white onion, finely chopped
500 g (1 lb 2 oz / 2 1/4 cups) Arborio rice
200 ml (7 fl oz / scant 1 cup) white wine
550 g (1 lb 3 oz) Cherry Tomato Sauce (see below)
800-900 ml (28-31 fl oz / 3 1/3 – 4 cups) hot chicken or vegetable stock, or hot water
100 g (3 1/2 oz) grana padano, finely grated
salt and freshly ground black pepper
4 x 125 g (4 oz) balls of mozzarella
400 g (14 oz / 2 cups) squeezed out spinach (from approximately 1 kg / 2 lb 3 oz fresh leaves or 500 g / 1 lb 2 oz frozen spinach)
1 garlic clove, peeled and lightly crushed
handful of basil leaves

Preheat the oven to 180°C (350°F / Gas 4). Heat 3 tablespoons of the oil and the butter in a frying pan and fry the shallot until soft, then add the rice. Toast the rice for around 3 minutes – it will start to crackle – then add the wine. Allow the wine to evaporate and reduce for another 3 minutes, then add the tomato sauce and 600 ml (20 fl oz / 2 1/2 cups) of the stock. Stir through frequently, keeping the heat to medium, and add a little more stock as necessary until you have a firm, thick risotto, which should take around 20 minutes. Add 80 g (3 oz) of the Grana Padano and stir through. Season to taste and remove from the heat.

Cut the mozzarella into 1 cm (1/2 in) slices and put into a colander to drain. Sauté the spinach in the remaining oil flavoured with the garlic and seasoned with salt and pepper to taste. Set aside.

Spread half of the tomatoey rice in the bottom of a 30 x 21 cm (12 x 8 1/4 in) ovenproof dish at least 5 cm (2 in) deep. Then add the spinach, followed by a layer of mozzarella and half of the Grana Padano. Follow this with the basil leaves, the remaining rice and top with the rest of the grana padano. Bake in the oven for 20 minutes. Serve straight away, while the cheese is still bubbling on top.
Variation: This timbale recipe also makes a beautiful layered savoury cake when cooked in a cake tin. To do this, generously grease a loose-bottomed 24 cm (9 1/2 in) cake tin with butter. Follow the method above and after removing from the oven allow the timbale to sit for 10 minutes before removing from the tin.

Cherry tomato sauce

I learnt to make this sauce from our Sicilian head chef Gregorio Piazza. He showed me how he leaves the stalks on the tomatoes during cooking as they add a wonderful grassy flavour to the sauce.

Buy tomatoes when they are really ripe, dark red and soft. In Sicily, tomatoes are available all year round but they are much better in the sunnier months. Taste them to make sure you are happy with the sweetness. Datterini are tiny plum tomatoes that are perfect for this. However, if you find your tomato sauce is not sweet enough add a little sugar to taste. This recipe can also be made with tinned cherry or San Marzano plum tomatoes, which contain little water.

This sauce has infinite uses and is used in several recipes in the book, from risotto to the timballo and more, and can be used in place of the sfincione sauce.

Makes approximately 1 kg (2 lb 3 oz)

1 carrot, roughly chopped
1 celery stalk, roughly chopped
1 white onion, roughly chopped
5 tablespoons extra-virgin olive oil
1 kg (2 lb 3 oz) cherry tomatoes on the vine or 1.2 kg (2 lb 10 oz) tinned cherry or whole plum tomatoes
1 sprig of basil
1 teaspoon salt
freshly ground black pepper, to taste
1-2 teaspoons sugar (optional)

Fry the carrot, celery and onion in the olive oil in a large saucepan over a medium heat for around 10 minutes or until soft. Add the tomatoes with a few of their stalks (if using fresh) to the pan with the basil and seasoning and cook over a medium heat with a lid on. Stir frequently, bashing the tomatoes with a potato masher to break them up. Bring to the boil, then remove the lid and reduce the heat to a low simmer and cook for around 30-40 minutes. Check the seasoning and adjust as necessary, adding a teaspoon of sugar if the tomatoes still taste acidic. Use the sauce as it is or remove the basil and stalks and use a stick blender to blend the sauce to a smooth, velvety consistency.
Recipe excerpted with permission from Sicily: Recipes from an Italian Island by Katie and Giancarlo Caldesi, published by Hardie Grant Books 2016,