The Five Seasons Kitchen by Pierre Gagnaire
February 28, 2017 by Jenny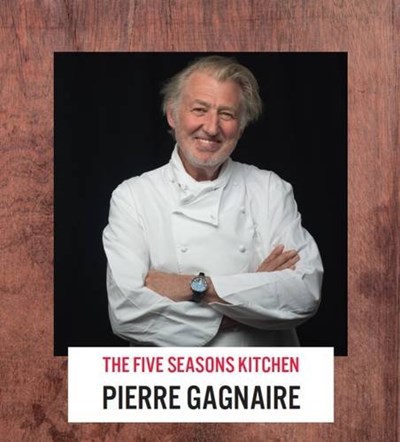 The Five Seasons Kitchen by Pierre Gagnaire is a beautiful book that brings fine dining into our homes by making it totally approachable. Gagnaire who in 2015 was voted 'Best Chef in the World' by his peers, marked five creative and successful decades in the kitchen in 2016.

To celebrate his illustrious career, Grub Street published his La Cuisine des 5 Saisons in English. Making Gagnaire's recipes accessible for the home cook for the first time. The author is at the helm of eleven worldwide restaurants boasting two and three Michelen stars. In this book, the recipes which made him famous are shared.
Why the title The Five Seasons Kitchen? Chef Gagnaire believes there are actually five seasons, not four, as he feels Spring must be divided in two as the same produce in March is not available in June. Accordingly, the recipes in this book follow the rhythm of the seasons and their bounty. Six menus with starters, main dishes and desserts are set out in each chapter with photographs and easy to follow instructions. Nothing in this title is overly intimidating but every dish is restaurant quality – a perfect title for the serious cook in all of us and those who wish to find that cook.
Filo Pastry with Chestnut Honey, Figs and Blackcurrrents, served with Caramel Ice Cream sounds complex right? Let your guests and family think you slaved the day away making this dessert which only took 30 minutes of prep and 25 minutes of cooking time. The chef breaks down the method for each component and then provides finishing touches and this gorgeous dish is on your table with an assist by purchased ice cream.
Special thanks to Grub Street and the author for allowing us to share one of his elegant but accessible recipes with our members. Please be sure to head over to our contest page for a chance to win this book.
Apple slivers "à la Juliette"
Preparation time: 20 minutes
Cooking time: 45 minutes
Serves 6
Ingredients
3 Royal Gala apples, peeled, halved and seeds removed
60 g brown sugar
Fresh butter
100 ml apple juice (failing this, use mineral water)
6 slices brioche
100 ml milk
1 egg
20 g granulated sugar
3 tbsp redcurrant jam
Method
FOR THE APPLES
Preheat the oven to 180°C, 350°F, gas 4. Thinly slice each apple half (as you would for an apple tart) and place in a gratin tray, pressing down gently on each one to loosen the slices and aid cooking. Sprinkle with brown sugar, place a few knobs of butter on top of the apples and mois­ten with apple juice. Cover with aluminium foil and bake for 15 minutes. Remove the foil and cook for a further 10-15 minutes, basting well to glaze. Leave to cool in the gratin tray.
FOR THE FRENCH TOAST
Combine the milk, egg and sugar. Soak each slice of brioche in this mixture and brown both sides in butter in a non-stick frying pan. Warm the redcurrant jam, whisking gently until fluid.
Finishing
Serve the apples warm in their gratin tray. Place a slice of French toast on each plate and drizzle with redcurrant jam. Invite the guests to top their French toast with the apple à la Juliette.