Recipes from Sweet Potato Love
September 25, 2016 by Jenny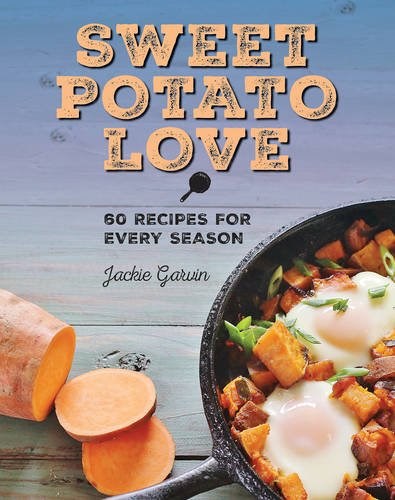 Jackie Garvin
, the author of
Biscuits
, a title that I reviewed last year, is back with her second single-focus cookbook,
Sweet Potato Love
. Sixty recipes for every season are featured in this book so that we may enjoy this delicious root vegetable from Spring through Winter.
For obvious reasons, we think of cooking with sweet potatoes in the Fall. Many a holiday table reserves a spot for a bubbly bowl of candied sweet potatoes which sometimes receives more attention than the turkey. There is no reason not to partake of the nutritious and tasty sweet potato all year long and in a multitude of ways!

With dishes like Sweet Potato Chipotle Hummus, Sweet Potato Pound Cake with Meyer Lemon Glaze and Sweet Potato Chocolate Chip Cookies – you will ever look at the sweet potato the same again.

Thanks to Jackie and Skyhorse Publishing for allowing us to share two tasty recipes from
Sweet Potato Love
. Be sure to enter
our giveaway
for a chance to win one of three copies of this title.
Sweet Potato Apple Butter
Yield: 4 to 6 pints
Sweet potato apple butter isn't just for smearing on biscuits and toasts, although, both uses are mighty fine. Use it as a topping for oatmeal. Heated, it makes a fancy topping for vanilla ice cream. Your waffles and pancakes will love it.
4 medium sweet potatoes, peeled and cut in chunks
3 medium Granny Smith apples, peeled, cored and quartered
1 lemon, halved and seeds removed
½ cup brown sugar, firmly packed
2 teaspoons ground cinnamon
1 teaspoon ground ginger
1 teaspoon ground nutmeg
½ teaspoon kosher salt
½ cup apple cider
Place all ingredients in a slow-cooker in the order listed. Cook on low overnight up to twelve hours.
The next morning, or after twelve hours and a good night's rest, remove the lemon. Puree with an immersion blender. Keep cooking, uncovered, until desired consistency is reached. If a smoother texture is desired, add additional apple cider.
Ladle into containers and store in the refrigerator for up to two weeks or freeze for up to 6 months.
Taste for sweetness and spices. If it's not sweet enough to suit your taste, add additional brown sugar while the mixture is still hot and the sugar will melt. As an option, sweeten with honey.

Sweet Potato Cornbread
Preheat oven to 350 degrees
Yield: one (9 inch) round
The notion of sugar in cornbread is enough to send some Southerners on a rant and rampage. It's one of those things that evoke strong feelings, for some reason. Ordinarily, I don't add sugar to my cornbread but I don't think the world is coming to an end if I hear that my neighbor does. I added a tad bit of sugar to this recipe to contrast the saltiness of bacon and cheese, the tang of buttermilk and amplify the natural sweetness of sweet potato. So, the reasons are purely culinary and have nothing to do with tradition. I trust my membership into the Genuine Southerners' Club is still intact.
This cornbread is a great pal of soups and stews. It goes will with most any flavor profile and spice levels.
4 strips of uncooked bacon
1 medium sweet potato, baked and skin removed
2 cups buttermilk
4 large eggs
2 cups medium or coarse ground cornmeal
2 cups self-rising flour
¼ cup granulated sugar
1 cup sharp cheddar cheese, grated
Fry bacon crispy in a 9 inch cast iron skillet. Remove bacon, crumble and set aside. Don't dare think about discarding the bacon drippings but remove the skillet from the heat so it doesn't burn up. We will get back to it shortly.
Place sweet potato flesh in medium bowl and mash. Add buttermilk and eggs. Whisk until mixed well. Set aside.
Measure flour, cornmeal and sugar into a large mixing bowl. Add crumbled bacon and cheddar cheese. Stir until bacon and cheese are coated with cornmeal mixture.
Add wet ingredients to cornmeal mixture and stir well. If mixture is too thick to be pourable, add a tad bit more buttermilk as needed. It should be thick but pourable.
Reheat skillet with bacon drippings (that you didn't discard) until it begins to smoke. Drop a tiny amount of the batter into the skillet. If it sizzles, the skillet is hot enough.
Pour batter into hot skillet. Bake in a 350 degree preheated oven for 45 minutes or until the top has browned to your liking.