The Taste of Egypt – Author Article
December 28, 2016 by Jenny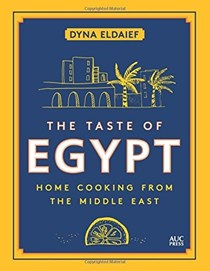 The Taste of Egypt: Home Cooking from the Middle East
by Dyna Eldaief delivers the sophisticated colors and flavors of Egyptian and Middle Eastern cuisine to the modern home kitchen in unpretentious, down-to-earth style.
We were pleased that we were asked to share information about this fascinating book with Eat Your Book members as well as offer a
giveaway
.
Dyna was gracious enough to answer a few questions about writing
Taste of Egypt
, her life and her future plans. After you have finished reading our author interview, be sure to go enter
our giveaway
– opened worldwide.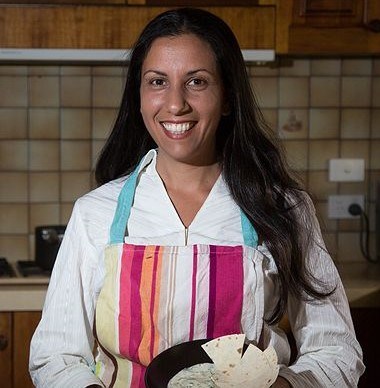 Thank you so much for taking the time to share some thoughts about your book, Taste of Egypt.
Q: Tell us a little bit about growing up in Australia, the child of Egyptian parents.
When I was growing up I didn't experience the same level of acceptance of people from different cultures as I do now. It wasn't until the latter years of high school and when I entered University I found that different nationalities were not only accepted but they were celebrated. It was then I began to embrace my heritage and explore it more than ever before. I wanted to learn how to cook the meals my mother made for me. Since I lived 3 hours away from home if I took public transport, I lived on the campus accommodation and my mother still cooked for me, freezing food in small containers of food for me to eat during the week. I started to share those meals with my friends and my future husband who started to visit me more and more around meal times.
Q; While it must have been comforting having your mother cook her native cuisine, did you ever eat at a friend's home or locally in Australia and long for their meals? Where there any dishes your mother made that you just didn't care for?
My mother was a great home cook, it was something that one of my aunts said was her special skill. Often she would make my favourite meals like kobeba (wheat and meat mixed together and baked or deep fried with mince in the centre), or mesa' aha (sundried eggplant fried and layered with a rich tomato based mince sauce baked in the oven), when I came home on the weekends.
I didn't eat often at friends' houses but when I did the typical Australian meal was 'Meat and three veg'. It was much simpler in flavour than Egyptian food since vegetables are usually boiled or oven roasted.
My mum did learn to bottle her own tomato sauce which was taught to her from an Italian friend. She also used the sauce in making traditional Italian pasta dishes and her own pizza which I enjoyed very much along with the Egyptian dishes she made. There were however a couple of dishes I didn't particularly enjoy. One being Keshk (yoghurt and wheat balls that are dried and stored then rehydrated and cooked with egg). She made this mainly for my dad since he was the only one that liked to eat it. The other was a Tabikh (a type of stew) made with silverbeet in tomato based sauce. We grew silverbeet in the backyard and so when that was in season we ate it boiled in abundance. I didn't enjoy those meals so much.
Q; When you visit Egypt – what are some of your thoughts about the food scene there? Do you find yourself cooking mostly Egyptian cuisine now?
I really enjoy seeing the street food stalls, I find it very rich in history as I feel they have been operating for generations the same way, but I also loved to see families sitting together eating at Zooba instead of at KFC or other fast food restaurants. I think Zooba and places like it would do well in Western Countries also. It is very authentic Egyptian food that tastes good yet has a modern approach to presentation and decor.
I occasionally cook Egyptian food at home but not the everyday. As such it is more of a treat for them than Egyptian food. All of them get to choose their favourite meal on their birthday and they always say Molokheia (a very Egyptian green soup, made from a herb and cooked in a delicious stock). I love that they don't like the food at McDonalds or KFC. A treat for them is Egyptian food which they see me make for other people a lot. So I know it is a favorite of theirs. As far as entertaining goes I usually make Egyptian food as it means my friends get to try something different and food they would not typically make for their families at home.
Q: What are some of your favorite dishes from Taste of Egypt?
I love Kobeba, Molokheia, Basbousa, Caeka bil gos el hind (coconut cake), Roast chicken from the book is my favorite way to have chicken. Koshary…mmmm yum…should I stop ? 🙂
Q: What is your go-to meal when you are planning a dinner party?
I had several families over for a party this week and made several salads and dips as well as kofta cooked over coals and roast chicken pieces. As there was also a vegetarian among us I made a giant tower of Koshary which was enjoyed by all the adults and the kids as well.
Generally lamb and chicken cooked over coals and salads is my go-to as I like to entertain outside in warmer weather. BBQ lunch is a popular way to entertain in Australia, I just use Middle Eastern flavours in my cooking.
Q: What other cuisines interest you?
I do like to try food from different cuisines. At the moment I am trying Vietnamese food. I want to perfect Pho which is rice noodles cooked in broth with beef strips, a few vegetables and fresh mint and coriander. I think it is light and healthy and nice particularly with the warmer weather we are in.
Q: Lastly, since we are all cookbook lovers – do you have any favorites that you can share with us and are there plans for a second cookbook?
I don't really have a favorite cookbook. I tend to explore different cuisines or particular recipes when I am interested in them. Maybe Indian food in colder weather and Japanese or other Asian food in the warmer weather.
I have been asked to write another book which I am currently working on. It will be a vegetarian cookbook with a Middle Eastern focus but not from any specific country.
Stay current with Dyna by visiting her website.