New ideas for your holiday punch
December 16, 2016 by Darcie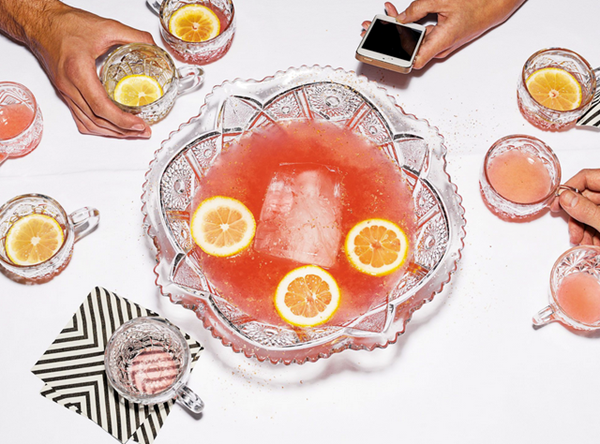 Many of us own a punch bowl but only dig it out of the cupboard a couple of times per year. The end-of-year holidays is one such time, and that means the hunt is on to find an impressive punch recipe that will satisfy our guests. M. Carrie Allen, writing for The Washington Post, is here to help, sharing her secrets to great punch.
Wine is a traditional base spirit for an alcohol-based punch, but Allen invites us to branch out by using fortified wines instead. These wines have a built-in level of complexity and can bring a lot of flavor without having to add a bunch of other ingredients. "A bottle of port can bring notes of figs or raisins, sherry traces of hazelnuts or honey, vermouths and gentian wines bitter herbs or winter spices," says Allen .
Allen called on cocktail historian David Wondrich, author of Punch! The Delights (and Dangers) of the Flowing Bowl: An Anecdotal History of the Original Monarch of Mixed Drinks, with More Than Forty Historic Recipes, Fully Annotated, and a Complete Course in the Lost Art of Compounding Punch for additional advice. One of his favorite punches is Chatham Artillery Punch, which he describes as "absolutely lethal, but so pleasant."
The key to making a less-than-lethal punch is proper dilution. Many recipes specify how much ice to use, and reducing or omitting it can prove perilous. Allen notes that dilution is crucial "not only to the flavor but to your guests' sanity and decorum." With over 300 recipes for alcohol-based punch, the EYB Library can help you find the perfect recipe to make good use of your punch bowl.
Photo of Touch of evil punch from Saveur Magazine by David Wondrich