Cookbook Gift Guide for New to Advanced Cooks
December 8, 2016 by Jenny
This is the final gift guide for this year. Prior posts covered the Forty Best Cookbooks of 2016, cookbook suggestions for art and music lovers, cookbooks for entertainers and cookbooks for bakers. I hope these guides were helpful for your shopping or your collection endeavors. All gift guides can be found at this #hashtag link.
A few final reminders: be sure to enter all our giveaways; this post has been updated highlighting all the open contests with links for your convenience. There are many giveaways planned for the next few months. Remember as you do your holiday shopping using the Buy Book button (for any Amazon purchase) helps support our indexing efforts. Lastly, our life time membership contest is open for anyone who buys a gift certificate to Eat Your Books.
Today's guide shares suggestions for various levels of cooks – from beginner, experienced to the more advanced – including a few offerings for dinner dilemmas.
Mad Genius Tips: Over 90 Expert Hacks and 100 Delicious Recipes by Justin Chapple and Editors of Food & Wine shares creative uses for some of our faithful kitchen tools. Justin is the Food & Wine's test-kitchen expert whose job is to unlock genius hacks such as using a baking rack to weave bacon or skin hazelnuts. For each hack, there is a recipe or recipes to accompany it. This is the perfect gift for the cooks in your life – especially those that are new to cooking, college students, and those setting out on their own for the first time. Everyone needs to know how to weave bacon right?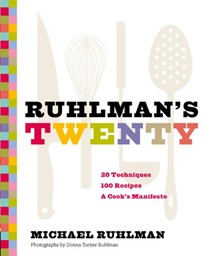 Ruhlman's Twenty: 20 Techniques, 100 Recipes, A Cook's Manifesto: The Ideas and Techniques That Will Make You a Better Cook
by Michael Ruhlman reveals how a cook's success boils down to the same twenty concepts. Ruhlman illuminates the hows and whys of each concept and reinforces those discoveries through 100 recipes for everything from soups to desserts, all detailed in over 300 photographs. Cooks of all levels will appreciate this title. Another Ruhlman title,
Ratio The Simple Codes Behind the Craft of Everyday Cooking
, dives into the truth of cooking: basic preparations that teach us how the fundamental ingredients of the kitchen work. For example, biscuit dough is 3:1:2 or 3 parts flour, 1 part fat, and 2 parts liquid. This ratio is the beginning of many variations, and because the biscuit takes sweet and savory flavors with equal grace, you can top it with whipped cream and strawberries or sausage gravy. One can't go wrong with a
Ruhlman
title.
Twelve Recipes by Cal Peternell, is a New York Times' bestseller and IACP award winner. Peternell wrote this cookbook for his son who was going off to college and it is has become a classic. In this title, we are provided the basic techniques and recipes needed for cooks of every level to gain ease and confidence in the kitchen. Twelve Recipes is a truly beautiful book that flows like a great novel with photographs that reflect the true comfort that the author's food delivers – it is a must-have in anyone's collection. I am particularly taken with one of the first photographs in the book – a shot of the chef's cookbook collection.
Food52 Genius Recipes: 100 Recipes That Will Change the Way You Cook
by Kristen Miglore delivers 100 recipes that will change the way you cook all in one volume. This collection of recipes are from knowledgeable chefs and famous restaurants including raised waffles from Marion Cunningham, Touch-of-Grace Biscuits from Shirley Corriher, Pasta with Yogurt & Caramelized Onions from Diane Kochilas, Black Pepper Tofu from Yotam Otttolenghi, and Fried Asparagus with Miso Dressing from Nobu Matsuhisa.
Food52
cookbooks, as I have stated before, are favorites in my collection. The
Food52 A New Way to Dinner
is the newest release which simplifies dinner planning with incredible recipes. You can read more about this title in my
review and recipe post
.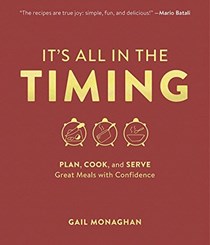 It's All in the Timing: Plan,Cook, and Serve Great Meals with Confidence
by Gail Monaghan is the ultimate guide to preparing multicourse meals and serving each dish at exactly the right time. Monaghan, an acclaimed food writer and cooking teacher, shares tips, stories, and recipes that are guaranteed to work. Chapters are organized as follows: Dinner in a Flash; Class Favorites, Entertaining by the Light of Day; Dinner for 8; Holidays; and Assets (make-ahead recipes, condiments, and marinades). Caramelized Onion and Goat Cheese Crostata, Sweet 'n' Hot Malaysian Chicken and Raspberry-Nectarine Streusel Tart with Vanilla Ice Cream are examples of a few of the tempting recipes in this title.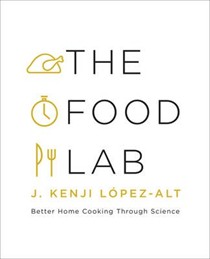 The Food Lab: Better Home Cooking Through Science
by J. Kenji López-Alt is the must-have book for every kitchen, for every level of cook. The Managing Culinary Director of the
Serious Eats
website (which recipes are indexed for our members) has delivered a comprehensive 950-page guide devoted to the art and science of food preparation. There are over 1,000 color photographs, including many step-by-step photos to help explain technique. The book covers knife skills, foundation recipes, and almost every culinary topic imaginable. López-Alt's recipes always work.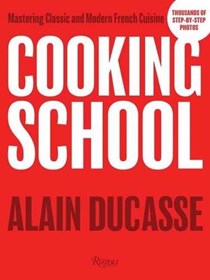 Cooking School: Mastering Classic and Modern French Cuisine
by Alain Ducasse delivers 190 classic and modern recipes that include regional French cuisine, everyday family meals, patisserie, confections and so much more. The nearly 600-page book contains thousands of step-by-step process photos and tips from chefs that will expand your knowledge and skill in the kitchen. Beautiful photographs are plentiful throughout the title and recipes that range from Brownies to a stunning Raspberry Charlotte. For the serious cook that wishes to level up, this is the book for them.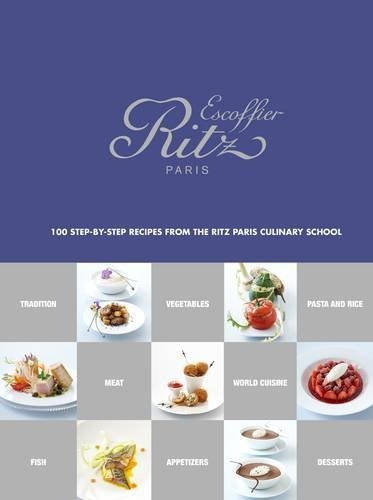 École Ritz Escoffier, Paris: 100 Step-by-Step Recipes from the Ritz Paris Culinary School includes 100 recipes for meat, fish, vegetables, foie gras, pasta and rice, international dishes, hors d'oeuvres, and desserts. Each recipe is illustrated and includes clear explanations and a step-by-step guide. An homage to the prestigious school, which is still in its original home at the Ritz Hotel on the Place Vendôme, Paris, this beautiful book is more than a reference; it offers the savoir-faire and secrets of a gourmet chef who has inspired cooks for more than 150 years. This book is another title for the serious cook.
Institut Paul Bocuse Gastronomique: The definitive step-by-step guide to culinary excellence by Institut Paul Bocuse is perfect for professional chefs in training and aspiring amateurs. This is a comprehensive step-by-step manual covering all aspects of preparing, cooking, and serving delicious, high-end food. First, the book sets forth 250 core techniques in photographs then those techniques are put into practice in 70 classic and contemporary recipes. Over 1,800 photographs fill this essential guide for any serious cook who wants to tighten their game.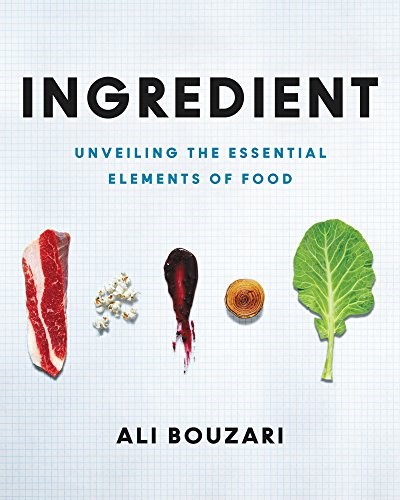 Ingredient: Unveiling the Essential Elements of Food by Ali Bouzari is a reference book highlighting each of the fundamental building blocks of food are fully explored to allow cooks a way to visualize and respond to what's really happening in the pan. An ingredient is a tomato, a tortilla, or some tarragon. An Ingredient (with a capital "I") is a recurring theme (or fundamental building block) that works behind the scenes in everything we cook. This is not a cookbook but a book that every cook should read. More information on Ingredient can be found in our article.
The Spice Companion: A Guide to the World of Spices by Lior Lev Sercarz is a stunning title with hundreds of fresh ideas and tips for using pantry spices, 102 never-before-published recipes for spice blends, gorgeous photography, and botanical illustrations. Lior Lev Sercarz founded his New York City spice shop in 2006 and has become the go-to source for fresh and unusual spices as well as small-batch custom blends for renowned chefs around the world. Understanding spices and how they complement ingredients and each other is an important component in a cook's arsenal. This beautiful book is a wonderful place to expand our knowledge of spices to add flavor and vibrancy to our meals.
---
Updated 11/2020 To the above list I would add for new cooks:
For more advanced cooks:
Updated 12/2021