Sweet Sugar Sultry Spice – Malika Ameen
October 21, 2016 by Jenny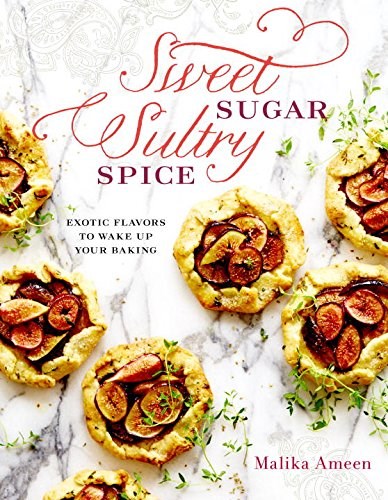 Malika Ameen, the author of the newly released, Sweet Sugar Sultry Spice: Exotic Flavors to Wake Up Your Baking, won me over with her first line, "If I were a spice, I would be cardamom." I love using warm spices to add something special to my baking and cardamom is one of my favorites.
Malika's debut offering is overflowing with bold, interesting recipes that have me longing for more. Is it too soon to ask if she is working on a second book? The chapters are titled after the characteristics of the spices: Spicy & Warm; Floral & Aromatic; Bright & Fresh; Savory, Earthy & Nutty; Complex & Mysterious which I found intriguing.
Luscious Pineapple and Honey Squares, Rose Latte Marshmallow Knots, Earl Grey Pavlova with Silky Chocolate Cream, Roasted Peach and Custard Borek and Lemon Verbena Chiffon Roll are just a few examples of the recipes that will have us rethinking how we approach desserts. Savory aspects in desserts have always appealed to me as a baker and Malika has delivered a collection of recipes that will keep me coming back for more. For those in the Chicago area, Read It & Eat is hosting a book launch party on October 29th – I wish I could be there!
Be sure to enter our contest offering five copies of this book to our U.S. Eat Your Book members and note the special giveaway over at Roost Books.
Malika and Roost Books were kind enough to share her recipe for Perfect Pumpkin Pancakes to liven up our Fall breakfast menu.
Perfect Pumpkin Pancakes
With the warm and comforting flavors of cinnamon, ginger, clove, and nutmeg, these pumpkin pancakes are the epitome of a cozy fall breakfast. They are a weekend favorite in my home. The trick to tender pancakes is to avoid overmixing the batter. It's okay to have small lumps in the batter, and overmixing will make the pancakes tough. Serve these hot from the griddle with butter and maple syrup.
ACTIVE TIME: 20 minutes
TOTAL TIME: 40 minutes
Serves 4
1 cup all-purpose flour
¼ cup whole wheat flour
2 tablespoons granulated sugar
1½ teaspoons baking powder
½ teaspoon baking soda
1 teaspoon ground Vietnamese cinnamon
¾ teaspoon ground ginger
¼ teaspoon ground cloves
¼ teaspoon freshly grated nutmeg
¼ teaspoon kosher salt
1¼ cups buttermilk, at room temperature, divided
2 large eggs, at room temperature, lightly beaten
4 tablespoons (2 ounces) unsalted butter, melted
2 teaspoons vanilla extract
¾ cup pure canned pumpkin
Preheat the oven to 250˚F.
In a large bowl, whisk together the all-purpose flour, whole wheat flour, sugar, baking powder, baking soda, cin­namon, ginger, cloves, nutmeg, and salt. In a medium bowl, whisk together 1 cup of the buttermilk and the eggs, butter, and vanilla. Add the buttermilk mixture to the flour mixture and whisk until barely combined. In another medium bowl, whisk together the pumpkin and the remaining ¼ cup of buttermilk. Using a rubber spatula, gently fold the pumpkin mixture into the batter.
Heat a skillet over medium-high heat. Lightly grease the skillet and cook the pancakes in batches. Spoon about ¼ cup batter onto the pan per pancake. Cook until golden brown on the bottom and slightly dry looking and bubbly on the top, 2 to 3 minutes. Use a metal spatula to flip each pancake and cook on the second side until cooked through, about 1 minute. Transfer the pancakes from the skillet to a baking tray, cover with aluminum foil, and keep warm in the oven while you cook more.
From Sweet Sugar, Sultry Spice by Malika Ameen, © 2016 by Malika Ameen. Reprinted by arrangement with Roost Books, an imprint of Shambhala Publications, Inc. Boulder, CO