Cookbook Giveaway – The Happy Cook
September 20, 2016 by Jenny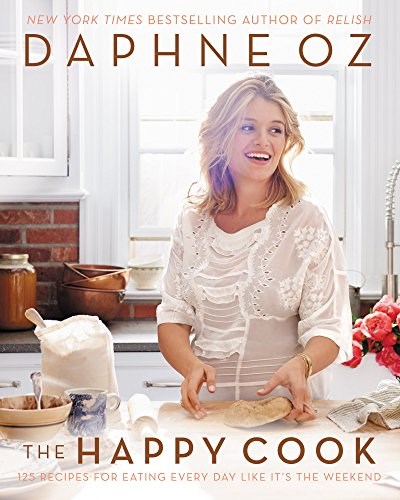 Daphne Oz is one busy woman. A co-host on the wildly successful daytime cooking show, The Chew, a wife and busy mom of two small children, yet she still has time to write a beautiful book, The Happy Cook: 125 Recipes for Eating Every Day Like It's the Weekend.
The global flavors sprinkled throughout this title are appreciated by this cook. Thai Vegetable Curry with Coconut Rice, Pan-Fried Calamari with Charred Jalapeño Chimichurri and Harissa and Mint Chicken Samosas are just a few of the recipes that struck me as must make. Each turn of the page, greets you with yet another unique and vibrant dish that while totally delicious is made with thoughtful ingredients and with concern for our well-being. This book surprised me in a good way – I love that healthier choices can still result in flavorful and craveworthy dishes. The Happy Cook will be well used in my kitchen.
You can learn more about The Happy Cook in our author's article post. We're delighted to offer 15 copies of this book, signed by the author along with a notebook to EYB Members in U.S. One of the entry options is to answer the following question in the comments section of this blog post:
What makes you happy in the kitchen?
Please note that you must be logged into the Rafflecopter contest before posting or your entry won't be counted. If you are not already a Member, you can join at no cost. The contest ends October 20, 2016.