It's National Cheesecake Day
July 30, 2016 by Darcie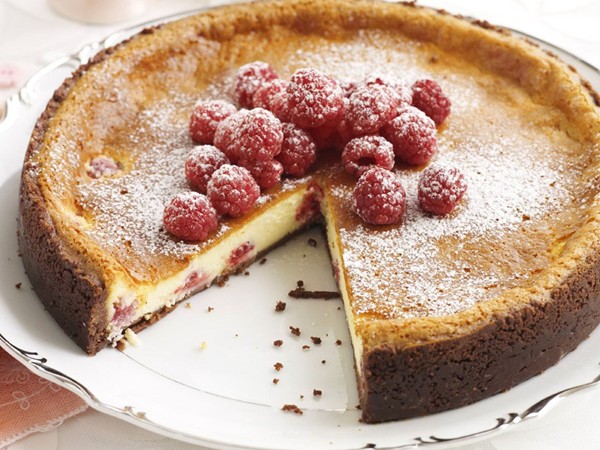 Today is National Cheesecake Day, and if it's a good enough reason for Dorie Greenspan to celebrate, it's good enough for me. Cheesecake's relative ease and make ahead nature are only two reasons it's such a wonderful dessert. You can also play around with a seemingly endless combination of toppings, crusts, flavors, and textures to suit any mood or occasion. There are even savory cheesecakes for those who don't have a sweet tooth.
Whether you make your cheesecake in a springform pan or regular cake pan, there are several tips to make sure your cheesecake is as creamy and delicious as possible. First and foremost, make sure your cream cheese is fully softened or you'll end up with an unpleasant lumpy texture.
Many recipes don't require it, but pre-baking your crust is another excellent technique. That way it stays crisp for a longer time. Even though it's tempting to dig right into your cheesecake, let it chill completely before removing it from the pan. This usually takes at least 6 hours, so plan for an all-day or overnight stay in the refrigerator.
The EYB Library contains over 1,400 online cheesecake recipes, like these Member favorites:
Margarita cheesecake from Martha Stewart's Cakes by the Editors of Martha Stewart Magazine
Tall and creamy cheesecake: A basic from Baking: From My Home to Yours by Dorie Greenspan
Pumpkin cheesecake from Feast: Food That Celebrates Life (UK) by Nigella Lawson
Original New York cheesecake from Junior's Cheesecake Cookbook by Alan Rosen and Beth Allen
Raspberry white chocolate cheesecake from Cheesecakes, Pavlovas & Trifles by Australia Women's Weekly (pictured top)
Aubergine cheesecake from Plenty More by Yotam Ottolenghi