Review of Korean Food Made Simple by Judy Joo
July 26, 2016 by Jenny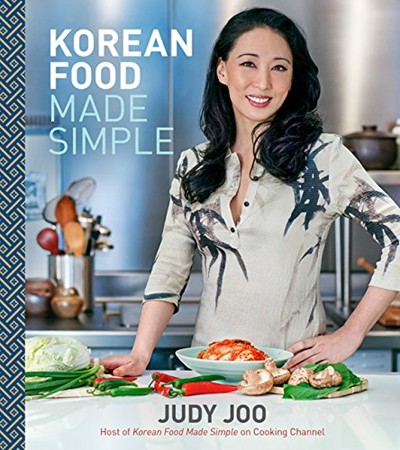 Judy Joo, host of the Cooking Channel's Korean Food Made Simple, has written a cookbook by the same name (recipe index here). In her cooking show, Joo travels Korea to sample its dishes and then transforms them into simple meals that we can create in our home kitchens. Don't let the word "simple" mislead you, in this case it means simplifying the mystique behind generations-old recipes and modernizing them for today's kitchens. There is nothing simple about the history behind these dishes or the flavors of these recipes.
Korean food is a combination of spicy, tangy and funky but always totally delicious, making it one of my favorite cuisines. I am always eager to get my hands on any book that deals with international cooking and since I am of fan of the television show, I couldn't wait to review and test Joo's book. I have made a few of her recipes from the Cooking Channel site and they were all successes.
In her cookbook, Joo shares 130 recipes that will banish our need for take-out. She begins with a comprehensive chapter on the Korean pantry including some photographs to help identify unfamiliar ingredients. The chapters are indexed as follows Kimchi & Pickles; Pancakes, Dumplings, & Other Small Bites; Salads & Veggies; Rice; Noodles; Soups & Stews; Seafood; Chicken; Beef & Lamb; Pork; Sauces; Bread; Sweets and ending with Drinks.
The chapter on Kimchi and Pickles shares several versions of kimchi, the fermented cabbage that is offered at every meal – including breakfast! Joo gives permission for us to purchase kimchi to create some of the other recipes in this book but recommends that we should try to make it once at home. The process doesn't seem overly complicated and only requires two very large bowls to brine the cabbage and a large container for fermenting. Perhaps one day when there is room in my refrigerator I will attempt it.
The recipes in Korean Food Made Simple vary from traditional Korean Dishes such as Galbi – BBQ Beef Short Ribs to twists on Americanized dishes: Kimchi Pulled Pork Disco Fries and Spicy Pork Belly Cheesecake. Some purists will not appreciate the addition of those type of recipes but I value them in a book. While I love the classics, I also enjoy fusion flavors and find I am more successful getting my family to try something they are somewhat familiar with but with different flavors.
It was difficult to choose recipes to test because I wanted to make them all. I ended
up making the Meaty Dumplings and Ultimate KFC (Korean Fried Chicken). The Ultimate KFC was spectacular, it was a bit of work but good fried chicken always is. The crust that you achieve is so crisp – it crackles when bitten into. The Korean barbecue sauce and pickled daikon were perfect accompaniments to this dish. I added a little honey to the barbecue sauce because it was a little too spicy for me. We had the leftover chicken the next day because I went a little crazy and doubled the chicken recipe. I served the chicken with some white rice and with the Meaty Dumplings. Even though most of the crispiness was lost with the chicken – it still was incredibly flavorful.
The Meaty Dumplings were easy to bring together and delicious. I halved the recipe because I don't have the freezer space that will allow me to freeze them on a tray. My goal is to clear out the freezer so I can make these delicious dumplings in bulk to supplement a meal or for snacking. Korean Food Made Simple is the perfect book for any level cook to delve into the art of a foreign cuisine. Joo offers many tips and hints along the way to ensure that our Korean dishes are successful and her instructions are very easy to follow.
Special thanks to Houghton Mifflin Harcourt for sharing Judy Joo's recipe for Meaty Dumplings with Eat Your Book members.
Photos for test recipes by Jenny Hartin. Jenny is an enthusiastic home cook who lives in Colorado, owns the website The Cookbook Junkies and runs the Facebook group also called The Cookbook Junkies. The Facebook group is a closed group of 30,000 cookbook fans – new members are welcome.
MEATY DUMPLINGS (MANDU)
MAKES ABOUT 45 DUMPLINGS
My mom used to enslave my sister and me to make these by the thousands. Plump dumplings neatly lined up on plates and trays covered every surface of the kitchen. I used to only eat the skins, shaking out the meaty insides for my sister. As I got older, I learned to savor those juicy gems as well, but the crispy skins are still my favorite part. If you prefer, the dumplings can be steamed instead of fried. These are a best seller at my restaurant, Jinjuu.
Filling:

1 pound ground pork
1/2 pound ground beef
6 ounces firm tofu, drained and finely crumbled
2 1/2 cups finely shredded Korean or napa cabbage leaves (ribs removed)
3 scallions, finely chopped
2 1/2 tablespoons soy sauce
2 tablespoons toasted sesame oil
2 large cloves garlic, grated or minced
2 teaspoons kosher salt or sea salt
2 teaspoons grated peeled fresh ginger
2 teaspoons roasted sesame seeds
2 teaspoons sugar
3/4 teaspoon freshly ground black pepper
For the Dumplings:
48 thin round eggless wonton wrappers
Vegetable oil, for frying
Dried chile threads (silgochu)
Chile-Soy Dipping Sauce, for serving
FOR THE FILLING: In a large bowl, combine the filling ingredients. Mix together using your hands, really breaking up the tofu to yield a very uniform texture.
FOR THE DUMPLINGS: Line a couple of baking sheets with waxed paper and set aside. Fill a small bowl with water. Unwrap the wonton wrappers and cover lightly with a piece of plastic wrap to keep them from drying out. Lay a wrapper on a clean work surface and put a tablespoon of the meat filling in the center. Dip a forefinger into the water and run it along the edges of the wrapper to moisten the surface. Fold the wrapper in half. Starting at the top of the half-circle and working toward the ends, press firmly together to seal, pressing out any air bubbles.
Lay the dumpling on its side on one of the prepared baking sheets. Repeat with the remaining wrappers and filling, making sure the dumplings aren't touching on the baking sheets. Once the dumplings are assembled, if you don't plan to cook them right away, you can freeze them on the baking sheets, then bag them up to store in the freezer. Without thawing the frozen dumplings, boil or steam them to cook through, then pan fry if you like to make them crispy.
In a large nonstick skillet, heat about 1 tablespoon of vegetable oil over medium-high heat. Working in batches, lay the dumplings on their sides in the pan in a single layer without crowding the pan. Cook until golden brown on the bottom, 2 to 3 minutes. Flip them and cook until the other side is golden brown and the filling is cooked through, 2 to 3 minutes more. Transfer the fried dumplings to a wire rack or paper towel-lined plate to drain. Repeat with the remaining dumplings, adding more oil to the skillet as needed. If you prefer not to fry the dumplings, steam them in batches until cooked through, 5 to 6 minutes, then transfer to a serving platter (steamed dumplings do not need to be drained).
Transfer the fried dumplings to a platter. Top with some of the chile threads and serve immediately, with the dipping sauce.
TIP: If you'd like to check the seasoning of the filling for the dumplings-or any kind of filling or stuffing that includes raw meat or fish-cook a small patty in a lightly oiled skillet, then adjust the seasonings to your taste.
CHILE-SOY DIPPING SAUCE (YANGNYUM GANJANG)
MAKES ABOUT 1/2 CUP
This sauce is my go-to sauce for dumplings, such as my Meaty Dumplings (page 54) and King Dumplings (page 56).
6 tablespoons soy sauce
2 1/2 tablespoons Korean apple vinegar (sagwa-shikcho) or rice vinegar
1 tablespoon thinly sliced fresh Korean red chile or Fresno chile (sliced on an angle)
4 1/2 teaspoons toasted sesame oil
2 teaspoons roasted sesame seeds
2 scallions, very thinly sliced on an angle
IN A SMALL BOWL, stir together all the ingredients. Cover and store in the refrigerator if not using immediately.
Text excerpted from KOREAN FOOD MADE SIMPLE ©2016 by Judy Joo. Photo ©2016 by Jean Cazals. Reproduced by permission of Houghton Mifflin Harcourt. All rights reserved.