Get the most out of less-than-perfect tomatoes
July 16, 2016 by Darcie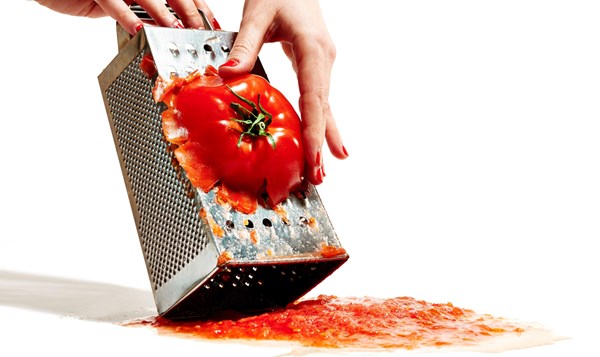 Sometimes the tomatoes from the farmers' market haul are so gorgeous and ripe that all you have to do slice and serve; they need no other garnish than a pinch of salt and pepper. Other times – or with some supermarket produce – the fruit is less than perfect. What to do then? Bon Appétit has the solution, with four genius ways to use bad tomatoes.
Raleigh, North Carolina chef Ashley Christensen (whose first cookbook, Poole's: Recipes and Stories from a Modern Diner, is due out this fall) explains what she does when faced with bruised or lackluster tomatoes. The chef grates them (using a box grater), and follow up with a brief sauté to make a fresh summertime sauce. "It's about falling in love with that middle ground between raw and cooked tomatoes," she explains. She pairs the sauce with cooked shrimp or pasta.
There are other easy methods that will concentrate and amplify the flavor of iffy tomatoes. You can dry them overnight in a slow oven, using a dehydrator, or even by letting them soak in a day's worth of sun (protecting the tomatoes with a screen to keep away pesky insects).
The oven can also be used to roast the fruit at a higher heat, creating a wonderful side dish using cherry tomatoes. Broiling or grilling tomatoes until charred adds a smoky flavor that's great for salsa. All of these techniques can, of course, be used with other vegetables to make the most of less-than-perfect produce.
Photo of Grated tomato sauce by Ted Cavanaugh for Bon Appétit Magazine