Review of Flavorwalla by Floyd Cardoz
July 13, 2016 by Jenny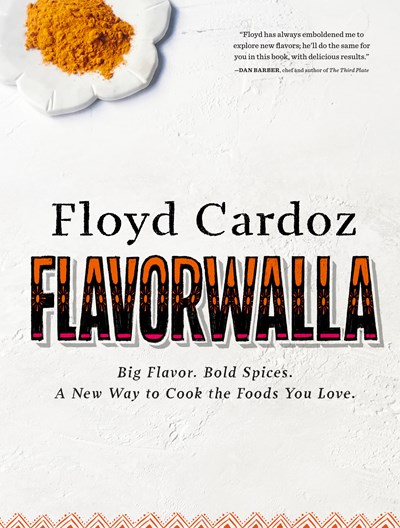 I fell in culinary love with Floyd Cardoz while watching Season 3 of Top Chef Masters. How had this New York chef who cooks with bold flavors not been on my radar? As is my modus operandi, I went directly to Amazon and checked to see if he had written any cookbooks. Yes, there one was one title – One Spice, Two Spice: American, Food, Indian Flavors and I wasted no time ordering it. I remember the Chicken Noodle Soup from this book – it was so delicious and flavorful using turmeric, bay leaf, clove, ginger, cilantro, coriander, cumin and fresh green chilies (and this recipe is also in Flavorwalla).
When I learned that Cardoz was working on Flavorwalla: Big Flavor. Bold Spices, I was ecstatic. Yes, I have thousands of cookbooks but there are certain authors and books that really excite me. One might think that they all do if you are a regular reader of my reviews. That isn't true. I write about the books that inspire me and help me to grow as a cook and hopefully those books will inspire others as well.
Flavorwalla promises to deliver big flavor, bold spices and a new way to cook the foods you love. The book is geared toward family type food and is organized as follows: Weeknight Meals, Dinner for Two, Essentially Vegetables, Family Style, Cooking for Tomorrow, Rise and Shine, Summer Cooking, Game Time and Special Dinners and Parties. As with most cookbooks, there are pages devoted to tools, ingredients, basic recipes and sources.
Cardoz relies heavily on a his spice cabinet to pack flavor into his dishes and even though he is of Indian descent he mixes up his recipes by adding in flavors from other countries too: Flank Steak with Thai Salad, Steamed Bok Choy with Ginger and Shallots, Corn on the Cob "Elote" with Cotija Cheese and Pork Carnitas with Orange and Chipotle. Also, scattered throughout the chapters are drink and dessert recipes including recipes for Sticky Toffee Pudding with Candied Ginger, Tamarind Margarita and a Coconut Layer Cake (Bibinca).
There is a little something for everyone in this book. Spiced Pumpkin Soup with Crabmeat and Pumpkin Seeds, Super Bowl Coconut Clam Chowder and Rendang Short Ribs are a few standouts. Of extra benefit are instructions on alternative cooking methods for various recipes – pressure cooker options along with tips on changing up recipes to create new flavors. Throughout the book he shares helpful instruction pieces such as how to toast nuts, how to handle fish and cleaning certain vegetables.
There are a few recipes that have a laundry list of ingredients – for instance the Rendang Short Ribs – which the author fully accepts responsibility for – but as he states it is all a matter of throwing the ingredients in the pot and is well worth the effort. Cardoz shared that these ribs brought tears to the eyes of James Oseland's (ex-editor of Saveur magazine). This recipe is going on my must-make list.
The Smashed Potatoes with Rosemary and Garlic that Saved My Christmas Eve which came to Cardoz' rescue after an oven failure were tested along with the Roasted Citrus-Brined Chicken with Pan-Toasted Croutons. These recipes required relatively little work for incredible flavor. I also love that you can reuse the brine the next day for chicken thighs if you keep it refrigerated.
Jenny is an enthusiastic home cook who lives in Colorado, owns the website The Cookbook Junkies and runs the Facebook group also called The Cookbook Junkies. The Facebook group is a closed group of 30,000 cookbook fans – new members are welcome.
Roasted Citrus-Brined Chicken with Pan Toasted Croutons
Serves 4 to 6
I've roasted more chickens than I can count in my life, professionally and at home, but this particular version, which came about one day when Barkha and I were preparing dinner together, has become the Cardoz family gold standard. We had already brined the chicken, which I do whenever I have the time, even though it runs contrary to my more spontaneous style of cooking at home, because brining seasons the chicken all the way through and helps keep it moist.
Our dinner plan was chicken and a salad – simple enough that when the chicken went into the oven, we began thinking about the salad. The boys love croutons, and I thought about using the pan juices from the chicken to make some extra-savory ones. When the chicken had come out of the oven and was resting, I reduced the pan juices, dropped in several handfuls of cubed cheese bread, and popped the pan back in the oven. After just ten minutes, we had the most delectable croutons the boys had ever tasted (we tossed them with lightly dressed arugula) and a savory accompaniment that seems to just underline everything that is good about the chicken.
There are specifics below, but the truth is that this delicious accompaniment to roasted chicken will be a little different every time you make it, depending on what kind of bread you use. At our house, that depends on what is in the freezer. We often serve bread with dinner. Sometimes it might be a plain white rustic loaf, but usually it 's olive or cheese bread. And since I am genetically programmed to be incapable of throwing away bread, when dinner is over, we cut any leftovers into cubes and pop them into a ziplock bag in the freezer. So I'm always prepared to create this quick and delicious flourish right before we eat. Incidentally, this method – the brining and croutons alike – also works for turkey.
For the brine

2 lemons, thinly sliced
1 orange, thinly sliced
2 cups white wine
1 large head garlic, halved horizontally
1¼ cups kosher salt
2 tablespoons black peppercorns, coarsely ground
Three 6-inch rosemary sprigs
4 quarts water
One 2½-pound/1.13-kilogram chicken
For roasting the chicken
Kosher salt
Freshly ground black pepper
2 teaspoons chopped rosemary
For the croutons
1½ cups Chicken Stock (page 337), high- quality store-bought stock, or water
4 loosely packed cups cubed (1-inch) bread
Thyme or rosemary sprig (optional)
1. Squeeze the juice from the lemon and orange slices into a large bowl or pot and then add the slices. Add the wine, garlic, salt, pepper, rosemary sprigs, and water and stir until well combined. Add the chicken. Place in the refrigerator for at least 12 hours, and up to 24 hours.
2. Remove the chicken from the brine and pat it dry with a paper towel. Remove the garlic, lemon and orange slices, and rosemary sprigs from the brine and set aside. Discard the brine.
3. Put the chicken breast side up in a large heavy-bottomed flameproof baking pan, preferably enameled cast iron. Stuff the cavity with some of the reserved brine ingredients (discard the remainder). Tie the legs together using kitchen string. Season the chicken lightly with salt and pepper and sprinkle with the chopped rosemary. Let stand at room temperature for 30 to 45 minutes.
4. Preheat the oven to 425°F.
5. Roast the chicken, basting it occasionally with the pan juices, for about 1 hour, or until the juices run clear when the thickest part of the thigh is pierced with a sharp knife. Remove the pan from the oven (leave the oven on). Lift up the chicken and tilt it to let the cavity juices run into the pan. Transfer the chicken to a cooling rack to rest while you prepare the croutons.
6. Skim off and discard most of the fat from the cooking liquid. Add the stock to the pan and place the pan over medium heat. Bring to a boil, using a metal spatula to scrape up all of the stuck bits from the bottom of the pan. Reduce the heat and simmer until the liquid is reduced by one-half. Add the bread cubes and press them down so that they soak up all of the liquid. Add the thyme sprig, if desired.
7. Place in the oven and bake until the bread is lightly toasted on top, 12 to 16 minutes.
8. Cut up the chicken and serve with the toasted croutons.
Cooking time: 1 hour and 15 minutes / Inactive time: 12 to 24 hours for brining the chicken, 30 to 45 minutes for bringing to room temp.
Note: You can reuse the brine once more the following day if you keep it refrigerated. Use it for another whole chicken or bone-in chicken thighs.
Special thanks to Artisan for allowing us to share the Roasted Citrus-Brined Chicken with Eat Your Books readers. Excerpted from Floyd Cardoz: Flavorwalla by Floyd Cardoz (Artisan Books). Copyright ©2016. Photograph by Lauren Volo.