Review of The Cardamom Trail by Chetna Makan
May 31, 2016 by Jenny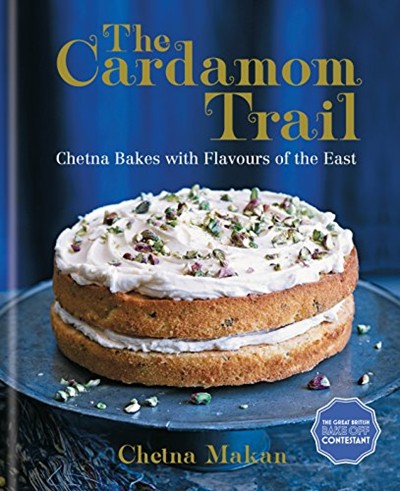 Fresh off her success as a semi-finalist of The Great British Baking Show, Chetna Makan has written The Cardamom Trail: Chetna Bakes with Flavours of the East. Her debut cookbook falls into my must-have cookbook category that will survive all attempts at purging my collection. There are certain books that draw me in immediately and as I page through the jewel-toned pages of decadent creations, I am mesmerized by the exotic lure of Chetna's magic with flavors. Utilizing the warm spices and herbs of India, she transforms baked goods into unique dishes and not typical bake-sale fare. In this book, she presents 100 of her recipes with tasty combinations that will be unlike anything we have sampled before.
I tested the cover photo cake, Pistachio, Cardamom and White Chocolate Cake (recipe below courtesy of Mitchell Beazley). Not only is this interesting cake easy to re-create, it is beautiful. The pistachio, cardamom and white chocolate marry perfectly in this cake and has me stopping by the counter to have just one more sliver. I did err on my part – being at a high altitude I should have adjusted the flour and cooking time (it was a little dry) but that was my error. It's a great recipe and will be made again with proper adjustments for baking in the mountains.
The Orange and Cinnamon Mini Cakes deserve a far grander name that befits their stunning appearance and taste. While I was baking the cake mentioned above, I was tempted to make these small cakes. The mascarpone cinnamon cream icing is fierce- make sure you double the recipe because it is so delicious that you will want to frost the middles and the tops. I ended up making a trifle with the cakes as I had a few stick on me – again my error with a brand new pan and not enough butter and flour to ease them out. The trifle was a huge hit – all those great flavors in one delish bite with the benefit of having more of that perfect light cream!
There are countless recipes marked to make in my copy: Peach Star Anise and Almond Tart, Fennel and Phirni Custard Tartlet (a custard using rice), Curry Onion Tart and a Masala Chai Baklava. I would list them all but thankfully Eat Your Books has the recipes indexed here and you are able to peruse them at your leisure. I am eager and excited to try these recipes not only because they sound incredible but due to the fact I am a fan of the sultry spices used therein.
The book is organized by type of baked goods: Cakes, Pies and Tarts, Sweet Things, Savoury Small Bites, Breads and Accompaniments (chutneys, raitas, pickles) and by spice: Saffron, Cardamom, Fennel, Star Anise, Clove, Cinnamon, Coriander, Carom, Cumin, Fenugreek and Tamarind. I love a baking book that mixes sweet and savory in baked goods as well as combining the unexpected. There is a gorgeous chicken pie – Degi Mirch Chicken Pie – degi mirch being a crimson chilli powder blend that will be on the menu soon.
I would be remiss if I did not touch upon the gorgeous bread chapter. Star Anise, Date and Chocolate Bread, Lemon Challah with Coconut Paneer, Carom Seed Pitta with Potato Tikki and Rajma Paratha – if they taste half as delicious as the photographs are beautiful – I will be thrilled.
It is hard to fathom that a woman raised in India, where ovens are almost non-existent and her mother having a basic tabletop oven, has become a baking star. Her passion for baking and her background as a fashion designer, explain the pure beauty of her creations. For example, Makan's Showstopper Victoria Sponge recipe truly is a work of art and happens to be one of her favorite cakes. Once she had her first taste of Victoria sponge in 2004 there was no turning back.
Saffron Meringue Cake, Pistachio Cheesecake with Apricot Chocolate Ganache and Saffron Brioche Buns with Mango Cardamom Cream – are all inspiring examples of uniqueness and decadence.
This book is a must have for any serious baker's library and one that will awaken your palate to exciting flavors and brilliant combinations to produce extraordinary goodness from your oven for family and friends.
Jenny Hartin is an enthusiastic home cook who lives in Colorado, owns the website The Cookbook Junkies and runs the Facebook group also called The Cookbook Junkies. The Facebook group is a closed group of 30,000 cookbook fans – new members are welcome.
Pistachio, cardamom and white chocolate cake
Serves 10-12

Photos by Jenny Hartin
For the cake
225g (8oz) unsalted butter, softened
225g (8oz) caster sugar
4 large eggs
250g (9oz) self-raising flour
1 teaspoon baking powder
1 teaspoon cardamom seeds, crushed to a fine powder
100ml (31/2fl oz) milk
50g (13/4oz) pistachio nuts, roughly chopped
50g (13/4oz) white chocolate chips
For the icing and decoration
150g (51/2oz) white chocolate
150g (51/2oz) unsalted butter, softened
few drops of vanilla extract
handful of pistachio nuts, 
finely chopped
To make the cake, cream the butter and sugar together with an electric whisk or a stand mixer fitted with a whisk attachment until light and fluffy. Add the eggs, 1 at a time, ensuring that each addition is well incorporated before adding the next. Now add the flour, baking powder, cardamom and milk. Beat for 1 minute until the mixture is light and creamy. Now fold in the pistachios and white chocolate chips with a spatula. Once mixed, fill the prepared tins equally with the batter. Bake for 30 minutes until a skewer inserted into the centre of the cakes comes out clean. Leave the cakes to cool in the tins.Preheat the oven to 180ºC (350ºF), Gas Mark 4. Grease 2 × 20cm (8in) 
round cake tins and line them with nonstick baking paper.
Once the cakes are completely cool, make the icing. Break the white chocolate into a heatproof bowl and set it over a pan of steaming water until melted, ensuring that the base of the bowl doesn't touch the water beneath it. Leave it to cool slightly. Now cream the butter in a separate bowl and add the melted chocolate and vanilla extract. Mix well until light and creamy.
Spread half the icing on 1 cake, then align the second layer on top. Spread the remaining icing on top and sprinkle with the chopped pistachios. This cake will keep in an airtight container for up to 4 days.