Much more than just a garnish
May 22, 2016 by Darcie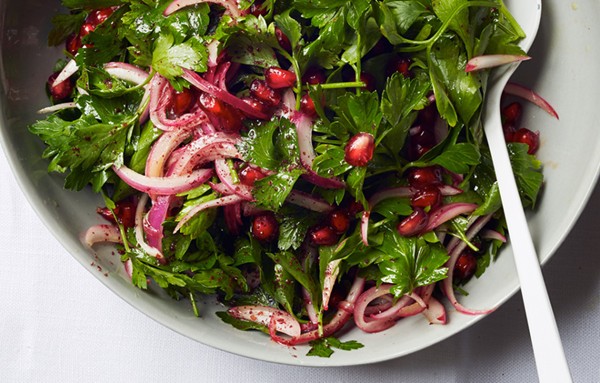 Many diners in the US probably first experienced parsley as a pale sprig garnishing a (likely overcooked) protein in a family restaurant. But the culinary herb has so much more to offer than just being a splash of green on your plate. Epicurious explores the myriad ways you can use parsley in your cooking.
Italian or flat-leaf parsley is generally preferred by cooks over the curly variety, but either can be used in any recipe that calls for parsley. Although native to the Mediterranean, the biennial plant is hardy enough to grow in most climates and freely self-seeds. This can lead to a bumper crop of parsley in mid- to late-summer. Luckily there are many great dishes that highlight its bright and fresh herbal flavor.
Parsley makes an excellent pesto that can be served with pasta or swirled into a soup. A variation on this theme is to make a parsley salsa verde or chimichurri to accompany steak, fish, or roasted vegetables. However you spell it, tabbouleh (and its cousin kisir) is another wonderful dish that showcases fresh parsley along with other garden favorites. It's a great addition to salads and can even be the starring green, as in the Parsley, red onion, and pomegranate salad from Bon Appétit Magazine by Yotam Ottolenghi pictured above. What's your favorite way to use parsley?