Ming Tsai dishes on the dishes that made his career
February 25, 2016 by Darcie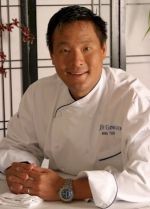 Ming Tsai has been a mainstay on the Food Network as the host of East Meets West, for which he won an Emmy. He is also producing and hosting a series, Simply Ming, on public television at WGBH in Boston. The chef recently spoke with First We Feast, discussing celebrity chefdom and the top 10 dishes that made his career.
Ming talked about his colleagues at the Food Network, and about the changes that have come about since he first appeared on Sara Moulton's show Cooking Live back in 1998: "In the early days at Food Network, we all felt like we were doing true cooking shows," he said. "It's morphed into reality television now, which I have nothing against, but I'm at WGBH because I still get to teach."
When discussing the dishes that made his career, Ming went all the way back to his childhood days. Fried rice was one of the first things he made by himself. He says, "I'll never forget it – I was ten years old, home alone, and a couple, whom I called auntie and uncle, showed up at the door. In my family you never greeted someone with "how are you?"; it was always "chr le ma?" which means "have you eaten?" Every opportunity is an opportunity to eat."
Of course his cuisine has advanced since those early days, and Ming talks about more sophisticated foods as well, like sake- and miso-marinated butterfish with soba-noodle nushi, and Pekingducken: a deboned squab, stuffed into a deboned chicken, placed into the cavity of a deboned Peking duck.