Cookbook giveaway – Tacopedia
September 29, 2015 by Darcie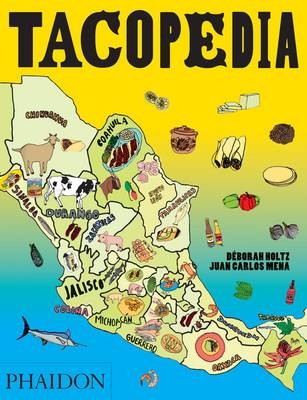 With a foreword by Rene Redzepi and filled with quirky graphics, Tacopedia by Deborah Holtz and Juan Carlos Mena is a cookbook for hip taco lovers, food truck enthusiasts and serious followers of Mexican cuisine. This cookbook is a deep dive into the varying taco traditions of Mexico's diverse regions. The abundant recipes are accompanied by interviews, stories, illustrations, graphics, maps and more that bring the vibrancy of the taco, and its homeland, to life. You can take a peek inside the cookbook with a chapter excerpt, and save 35% off the cover price with the special Phaidon offer for EYB Members.

We're delighted to offer five copies of the book to EYB Members worldwide. One of the entry options is to answer the following question in the comments section of this blog post:
What's your favorite taco filling?
Please note that you must be signed into the Rafflecopter contest before posting the comment or your entry won't be counted. Entries from non-Members will be discarded. If you are not already a Member, you can join at no cost. The contest ends October 27, 2015.