The honey-do list
September 11, 2015 by Darcie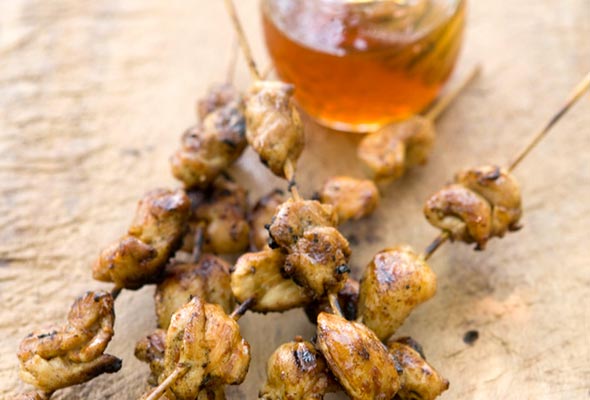 Honey has been a cooking staple for millenia, and for good reason. It never spoils and lends a unique, tangy-sweet flavor to everything it touches. We need to thank the first brave soul who ventured into the midst of a hive, risking injury to get to the golden nectar. Indexed blog Leite's Culinaria has a great slideshow featuring the myriad things you can do with honey.
The show starts with breakfast, where it's drizzled over cheese and paired with bread. Many of the recipes land at the other end of the meal, like this Fig tart with goat cheese and pistachios. Honey is paired with butter and chili to make a spread that is "Sweet, spicy, and just a little sassy. That's what we think of this sensational synthesis of everyday ingredients. Slather it at will." The sweetener also tames a cocktail with rum and Jagermeister in the Honey healer.
Honey's usefulness extends into other meal courses as well, gently sweetening a warm goat cheese salad and an endive salad with gorgonzola. Moving to the main course we find a leg of lamb with Moroccan spices that "requires nothing more than a little patience and a lot of wet naps," and Chicken yakitori with honey sauce, pictured above. The EYB Library is chock full of more honeyed recipes for everything from appetizers to grilling/BBQ to soups to cookies and beyond. What's your favorite honey recipe?