Marshmallows move to fine dining
July 15, 2015 by Darcie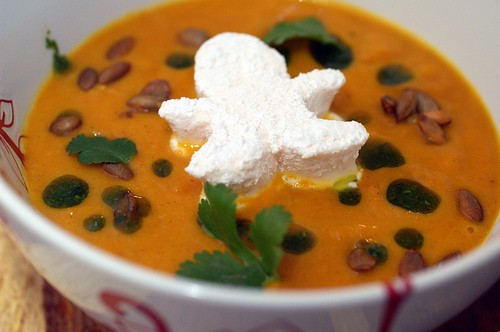 Many people equate marshmallows with their youth and happy memories of campfires, s'mores, or crispy rice squares. That nostalgia has prompted several chefs to incorporate marshmallows into their fine dining menus, says Fortune magazine. Marshmallows can be found not only in desserts but also in vegetables, main dishes, and cocktails.
Besides nostalgia, chefs find that marshmallows add texture and flavor to a dish. Chef Jason Bond of Bondir Cambridge in Massachusetts says that his homemade Ras el Hanout marshmallow "slowly melts into a hot dish (or drink) and changes the flavor as you go, or gives a little surprise when you get to it," adding that the flavors are "a nice complement to both the squash and root vegetables" as well as chili-spiced hot chocolate.
Chicago Chef Phllip Foss of EL Ideas also uses marshmallows in several dishes in his fine dining restaurant. The most recent dish combined the sweet squares with cryo-shattered grapefruit segments, desiccated poached beets, and shiso. "We then folded cracked pink peppercorn into the gelatin-less marshmallow, piped it on the plate in the shape of a ring where the rest of the ingredients were to be placed, and then hit it with a blowtorch to toast it," Foss notes.
This trend is starting to trickle down to the masses, as evidenced by a few non-dessert recipes in the EYB Library, including the Curried carrot ginger soup with pepitas, cilantro oil and a homemade spicy marshmallow from indexed blog Sassy Radish (pictured above), and Martha Stewart's Sweet potato fries with brown-butter marshmallow sauce.