The history of the hamburger
June 8, 2015 by Darcie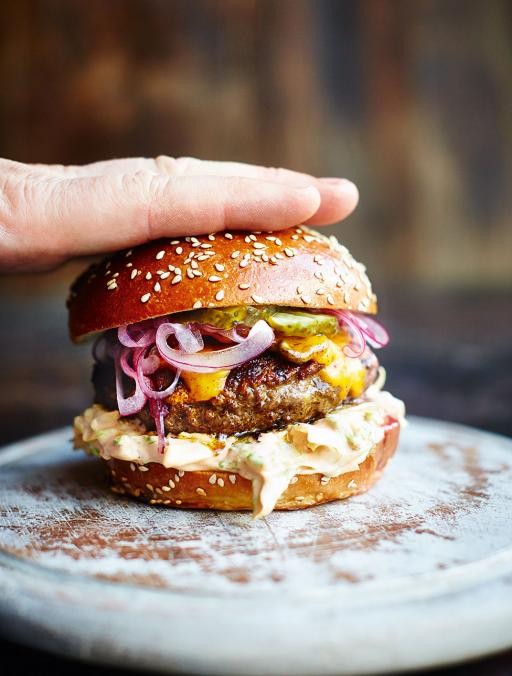 If you're a fan of burgers, you need to visit Grub Street to read the story of the hamburger. It's actually more than just one story, as Grub Street interweaves several short articles into a longer narrative discussing the rise of the gourmet burger. The smaller vignettes include a blind burger sauce taste testing by Daniel Boulud, a discussion of burgers in other countries, an animated history of the burger, and a story on the butcher who is "taking the bullsh*t out of burgers."
The main story, written by Benjamin Wallace and titled "The Play Doh of Meats: The Quest to Perfect the American Burger," starts off slowly, with a discussion about the "Burgerati," a loose collective of people who live and breathe burgers. But if you make it through the first few paragraphs, you are rewarded with a thorough and engaging history of the gourmet American hamburger.
While there is some debate about the true original "elevated" burger – which dates back to the 1950s or 1960s, depending on which story you believe – Wallace claims that "the first celebrity-chef burger, and also the first truly mediagenic burger, is undisputed: Daniel Boulud's DB Burger." This burger didn't come on the scene until 2000, when Boulud, feeling protective of his adopted country after anti-globalization activists in his native France vandalized a McDonald's, decided to create a burger that would bridge the haute cuisine of France and American simplicity. "I wanted to make a burger you could drink red wine with," he told Wallace. "That was my obsession. It was really a burger for grown-ups."
From there, Wallace traces the change from ground beef as the "dump site for the trimmings of trimmings from used-up dairy cow" to specially selected cuts and custom blends, highlighting important players (like butcher Pat LaFrieda) who created this sea change in the burger industry. He also discusses how the economic downturn played into the gourmet burger frenzy. All in all, it's a very good read, even if you are more of a casual burger eater than a connoisseur.
Photo of Insanity burger from Jamie Oliver's Comfort Food: The Ultimate Weekend Cookbook