The guide to grilling guides
May 24, 2015 by Darcie
This long weekend marks the unofficial start of summer in the U.S. The Memorial Day holiday also kicks off the grilling season, especially for those in more northern latitudes who eagerly anticipate the first firing of the grill. Although tradition dictates that steaks and hamburgers will make an appearance, more and more people are venturing beyond meat to grill fruit, vegetables, and pizza.
If you aren't sure of what changes you need to make for grilling these items or if you're looking to refresh your rusty steak grilling technique after the winter hiatus, there are plenty of guides available–perhaps too many. To help you wade through them, we've gathered a few to use as starting points. We will start off with indexed blog Serious Eats' comprehensive guide to grilling steak. Looking for a different protein? Try this guide to grilling seafood including fish, shrimp, and lobster.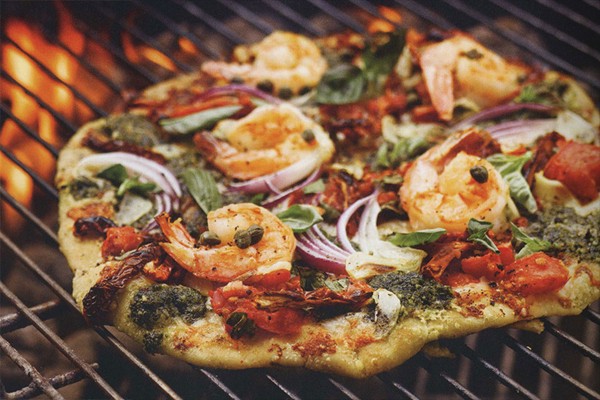 Grilled pizza can be a challenge unless you know the right technique. Indexed blog Simply Recipes offers a how-to guide, and you can also find indoor and outdoor grilling techniques from Grilled Pizzas & Piadinas. Food52 shows us the best methods for grilling fruit, and Kalyn Denny of Kalyn's Kitchen provides with advice on how to cook vegetables on the grill.
With over 8,200 online grill and BBQ recipes, the EYB Library has you covered for recpe ideas once you master the techniques. If you are feeling particularly adventurous after reading all of the guides, you could always try grilling on molten lava (but we don't recommend it).
Photo of The gamberian (sautéed shrimp with pesto and tomato pizza) from Grilled Pizzas & Piadinas by Craig W. Priebe and Dianne Jacob