A sweet seed-saving success
May 20, 2015 by Darcie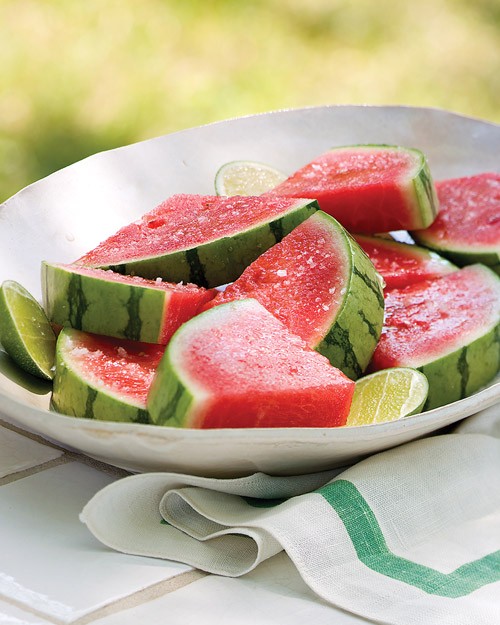 The farm-to-table movement has produced renewed interest in heirloom varieties of fruits and vegetables. It's something that David Shields knows a lot about. Shields, a professor at the University of South Carolina, is author of Southern Provisions: The Creation and Revival of a Cuisine. His mission is to restore antebellum cultivars and foodways. About 10 years ago, as part of his ongoing research, Shields began investigating 19th century melons. He was particularly interested in one variety called the Bradford watermelon. NPR's The Salt brings us the story of the search for this melon and its happy ending.
The Bradford watermelon is the stuff of legend. The fruit, which boasted sweet flesh and a soft rind that was often made into pickles, was once so sought after that "19th-century growers used poison or electrocuting wires to thwart potential thieves, or simply stood guard with guns in the thick of night" to protect their crops. Because the delectable melon didn't ship well, it all but disappeared by the 1920s as sturdier varieties took over.
The legend of the fruit attracted Shields' attention and he began searching for any remaining examples of the melon. Shields had almost given up hope when in late 2012 he received an email from Nat Bradford, a great-great-great-grandson of the man who created the famed fruit. It turned out that after the last commercial crop had been planted in 1922, the Bradford family had maintained the fruit by "planting it in their backyards and saving seeds – making sure to plant it at least a mile from any other melon, so that it wouldn't cross-pollinate and lose its purity."
Shields convinced Bradford to reintroduce the melon to consumers. Bradford embraced the idea and in 2013 he began a limited distribution of Bradford watermelons to chefs and distillers. James Beard Award-winning chef Sean Brock used the melons to create molasses and pickles to serve at his restaurant. High Wire Distilling Co. distilled 143 bottles of watermelon brandy which quickly sold out. Bradford was so excited that he saved 25,000 seeds, some of which he sells on his website.
Read more about the interesting development of the Bradford variety, which dates back to the American Revolution and a British prison ship, at the NPR website.
Photo of Tequila-soaked watermelon wedges from MarthaStewart.com by Martha Stewart Living Magazine