Jazz up your julep
April 30, 2015 by Darcie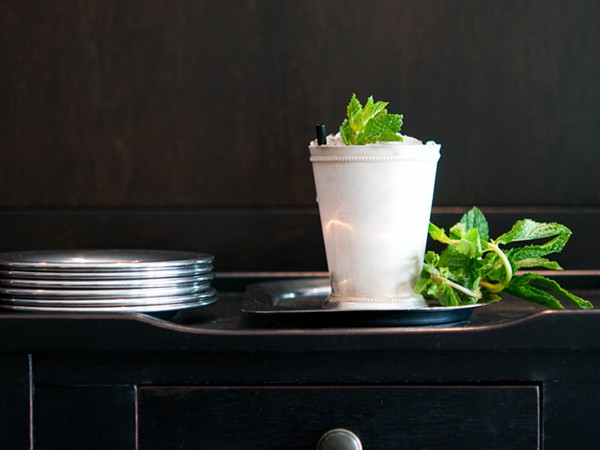 Few celebrations or holidays have a cocktail that is as strongly associated with the day as the Kentucky Derby does with its mint julep. Saturday marks the 141th anniversary of the prestigious thoroughbred race, and there is no telling how many mint juleps have been consumed since the inaugural event in 1875.
Southerners love their traditions, so until recently the classic cocktail saw little modification. Juleps were made with various spirits such as brandy and genever gin throughout the 19th century, but the mint version that became intertwined with the Derby accepts no substitutes for Kentucky bourbon. (Well, almost no substitutes, since the "official drink" of the Derby from 1999-2014 used Early Times whiskey. This year the Derby has switched back to bourbon with Old Forester as the official brand.)
Similarly, a particular variety of spearmint known as Kentucky Colonel is the preferred herb. Silver julep cups are de rigeuer for purists, although pewter is also acceptable. For perfect form, one should hold the cups only by the top or bottom edges, allowing frost to form along the sides of the cup.
Those who aren't hidebound to tradition have made changes and additions to the mint julep, and today you can try any number of different juleps, including 59 recipes from the EYB Library. Sip one of these tasty recipes, whether or not you watch the race wearing a special hat:
Ginger-mint juleps with fresh pineapple from The Kitchn
Mint & raspberry julep from Jamie Magazine
Blackberry-bourbon julep from Bobby Flay's Bar Americain Cookbook
Strawberry mint julep from Baking Bites
Sparkling mint & lemon juleps from BBC Good Food Magazine
Maple julep from Death & Co: Modern Classic Cocktails
White peach julep from Cookbooks 365
Photo of Hawksworth's mint julep from indexed blog Serious Eats