How does a famous chef cook at home?
March 22, 2015 by Darcie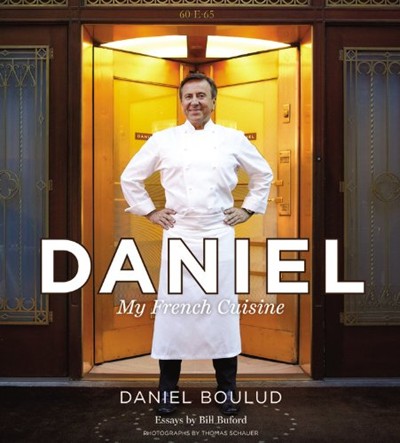 You might imagine that a top chef's kitchen features loads of equipment and a pantry stocked with exotic ingredients. That's not the case, at least for Daniel Boulud. The storied chef recently spoke with Yahoo! Food about what's always in his kitchen, and how he cooks at home.
He starts by listing the ingredients that he always has on hand: "Sea salt. Different oils – olive, walnut, hazelnut, grape seed. There are always vinegars. Different kinds of mustards. Spice from La Boîte à Epice. I always have saucisson, charcuterie – dry ham, salami, things like that, which I bring back from France. And then canned fish in my refrigerator-sardine, anchovy, tuna, octopus, mackerel. I love canned fish. "
Boulud prepares these simple ingredients, well, simply. His kitchen in France has a wood stove, so he can't get too fancy. In New York he has access to a much more sophisticated kitchen (he lives above his restaurant), but when he's cooking for family he doesn't use it much. Boulud's favorite cooking experiences are those where he can "make delicious food with humble, simple ingredients and create an emotional moment with it."
When asked if he owned many cookbooks, he was quick to respond in the affirmative: "Are you kidding? I have thousands. I continue to buy them at auction as well. Old French cookbooks. I think they are part of what I am." Boulud recalls that his first cookbook was La Repertoire de la Cuisine by Louis Salnier, which he purchased at age 14 as he began his first kitchen apprenticeship In France.
The interview delves into Boulud's formative years, and he also discusses the cuisine he would most like to conquer (Indian).