Is the internet making food homogeneous?
March 19, 2015 by Darcie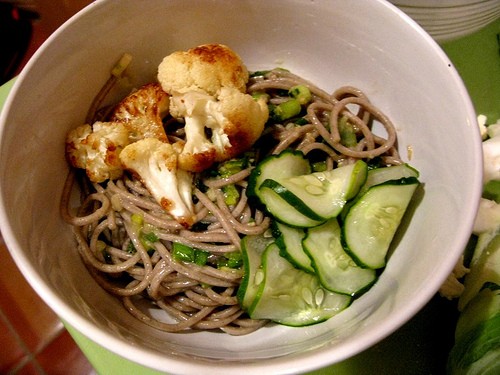 Many home cooks rely on the internet for inspiration and guidance in their cooking. So do many restaurant chefs, and that's a big problem, says David Chang. "Everything tastes the same," he says, "and it's the internet's fault." He tackles this issue in his quarterly magazine Lucky Peach, where he focuses on the foodstuff of his own restaurant: ramen.
He wrote that before the internet, "apprentices would learn from a chef, then work their way from taking orders to washing dishes and finally to working in the kitchen. Once they were good enough, the master would tell them to move on to another shop somewhere else." Now, however, "ramen is everywhere, and a lot of it is the same. I don't want to go to every city and taste the same fucking thing."
Chang elaborated on his thoughts at the recent SXSW festival in Austin, Texas. There he argued that the "rapid growth in food blogs and online conversation around eating out means that it's harder than ever for a young chef to make a mark doing something that's interestingly different, because the pressure to get it right first time is enormous." Since no one wants to fail, Chang muses, they won't put themselves on the line the way they might have in the past. He also says the easy availability of information makes it too easy for chefs to replicate the work of others. "There's no struggle, and I think it's very important in any creative process that you endorse some sort of struggle."
Not everyone agrees with Chang's assessment, however. In the comments to the article, many readers pointed out that without the accessibility of the internet, they would likely never have been exposed to many cuisines, both in restaurants and in their own home kitchens. What do you think? Is the internet a boon for food or is it leading to dumbed down or copy cat dishes?
Photo of Momofuku's ginger scallion noodles from Amateur Gourmet by Adam Roberts and David Chang