Break out the bubbly
December 27, 2014 by Darcie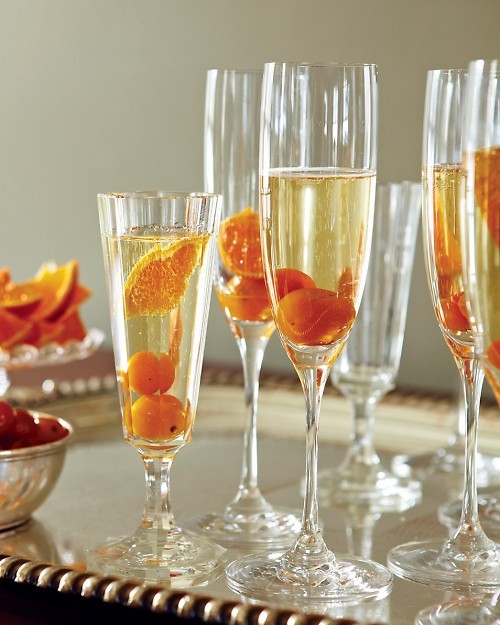 Champagne has a long and rich history of being associated with special occasions. Next week, millions of people across the globe will celebrate the arrival of the new year with a toast of champagne or sparkling wine. But if you are in the mood for something a little different, try a champagne-based cocktail instead.
First, let's brush up on our champagne knowledge. True Champagne only comes from the Champagne region in France. There, Champagne houses and growers have been producing the elixir following a strict methodology for centuries. Other wonderful sparkling wines are produced in various parts of the world but they should, strictly speaking, not be called champagne. Prosecco from Italy, cava from Spain, and many sparkling wines from the U.S. fit this category.
Champagne, like wine, comes in different levels of dryness. The driest varieties are extra brut and brut nature, which have almost no residual sugars. "Next up is brut and sec, which are very dry and dry, respectively. If a touch of residual sugar is what you're after, look for demi-sec, which is medium sweet, or doux, which is the sweetest in style." Champagnes can be made with a blend of grapes (usually chardonnay, pinot noir, and pinot meunie. A blanc de blanc champagne is made only with chardonnay grapes, while a blanc de noir is made from the darker pinot grapes.
You don't need skinny flutes to serve champagne or champagne cocktails. A tulip shaped glass is preferred. Flutes became popular because they highlight the bubbles but they make it more difficult to pick up on delicate aromas and flavor. Serving it in a wider glass opens up the drink.
Now that you are up to speed on champagne and sparkling wines, try one of these bubbly cocktails to ring in 2015:
Rossinis
from
Barefoot Contessa Foolproof: Recipes You Can Trust