A stellar year for women in food
December 18, 2014 by Darcie
In 2013, TIME Magazine published an article titled The Gods of Food, which attracted notice for its glaring omission of women. Time took some heat for the article and 2014 began with low expectations for the treatment of women in the food industry. However, The Braiser reports that despite the dismal outlook, the year proved great for women as they dominated the James Beard Awards and received many other accolades.
The Braiser lists twelve women who "owned" 2014, and EYB members will recognize many of the names. First on the list was restaurateur Barbara Lynch. To say she was busy in 2014 would be a grave understatement. In addition to running her restaurant empire, Ms. Lynch earned a James Beard Foundation award for Outstanding Restaurateur, appeared on Top Chef, and is preparing to compete in the Bocuse D'Or in January.
A Lynch protégé, Kristen Kish, is also on the list. This year the Top Chef winner competed in Top Chef Duels and landed on the cover of Cherry Bombe magazine. Speaking of that publication, founders Kerry Diamond and Claudia Wu were heralded for their pioneering magazine that highlights not just big-name chefs, but also "the gals in the industry we may not have heard of before."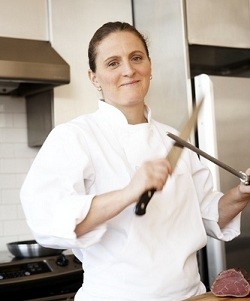 Another woman from the publishing field, Dana Cowin, makes the Braiser list as well. The editor of Food & Wine was lauded for leading the way in giving female chefs their due. In January, Food & Wine will publish an entire issue dedicated to female chefs. Other familiar names mentioned in The Brazier article include chef/authors April Bloomfield, Gabrielle Hamilton, and Nancy Silverton.
Some less familiar names include Katie Button, a James Beard-nominated chef from North Carolina who took "her chops on the road for the most dramatic chef show to come out this year, World's Best Chefs, to interview some of her former bosses, like Adria and José Andrés." Another newcomer is Rosio Sanchez, who worked with Rene Redzepi at Noma. Redzepi selected Sanchez to open a Mexican taqueria, Hija de Sánchez, in Copenhagen next year.