In a pickle! 2014's preserving books
December 9, 2014 by Susie
It's mid-December, which means that those of us in the Northern hemisphere are enjoying the hard work we did months ago, in the form of Mason jars full of glowing preserves and crisp pickles plucked right off the pantry shelf! Right?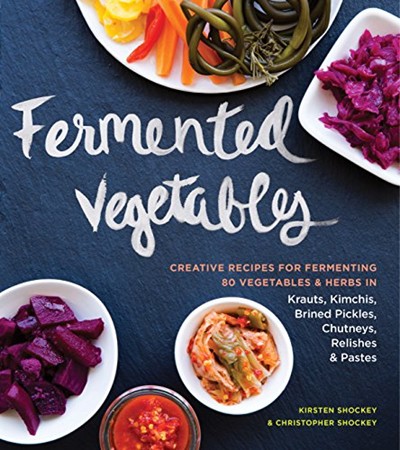 Everyone I know who spends as much effort gardening as I do has something to show for it in December – a pint of thick salsa, a sour passel of dilly beans, a jar of fat green pickles. But me? Once again, I punted in September, and all I've got to show for countless hours in the garden is several quart bags of blueberries in the freezer. Because freezing is easy. You don't actually have to do anything.
With 1067 titles and counting, "Preserving" is one of the biggest "cooking method" categories on EYB. And 2014 was a special year in preserving, with at least three major titles capturing the attention of DIY'ers – both the hardworking and the merely hopeful sort – everywhere.
Perhaps the most ambitious – and giftable – is Mrs. Wheelbarrow's Practical Pantry: Recipes and Techniques for Year-Round Preserving – by DC-based Cathy Barrow. No food group escapes her preserving techniques – not even meat or dairy – making the book a one-stop shopping trip for the well-fed survivalist. Gorgeous photography by Christopher Hirshheimer and Melissa Hamilton seals the deal.
Two books devoted specifically to vegetables offer a tighter focus. Firefly Kitchen in Seattle offers up Fresh & Fermented: 85 Delicious Ways to Make Fermented Carrots, Kraut, and Kimchi Part of Every Meal. If downing endless forkfuls of pickled cabbage fails to attract you, the book offers a multitude of recipes in which the pickles merely form part of an ensemble of complementary flavors.
And Storey Publishing's Fermented Vegetables packs the gamut – arugula to zucchini – into a single, high-impact volume. Need to know how to preserve shiso leaf? lambs-quarters? Saltwort? Look no further.
None of these books, however, will solve the problem of not having 28 hours in the day. Or the problem of wanting to eat everything you cook right away, so there's never anything left over for storage. It's possible I might need to step away from DIY for a bit and spend some quality time in the Self-Help section…