Load up for leftovers
November 25, 2014 by Darcie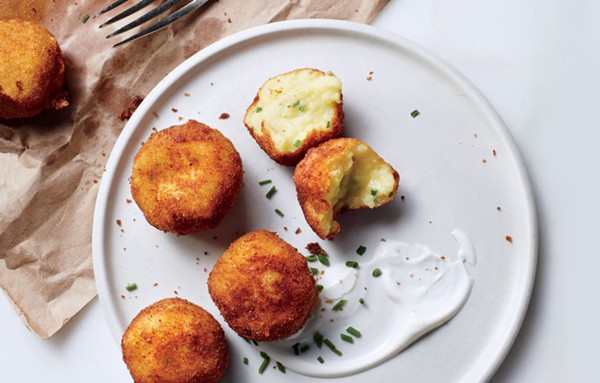 Cooks in the U.S. are in the midst of Thanksgiving meal preparations, and Twitter feeds are stuffed to the gills with holiday recipe ideas. We expect that most of you have already nailed down your menu, so we thought we'd give you a head start on what to do with the leftovers you'll be facing on Friday. These ideas may be especially useful to those with overnight guests because you won't have to traipse around the internet in your Friday morning fog.
Some leftover uses are well-known: turkey tetrazzini, potato pancakes, and turkey pot pie. But you don't have to stop there. Indexed magazine Bon Appetit provides several creative ideas for using the remains of your feast–including the green beans. For those, the magazine suggests you chop them and "toss into a morning-after scramble or mix with farro, feta, and herbs for a simple grain salad." Instead of potato pancakes, they offer potato croquettes (pictured above), because isn't everything better deep fried? And they recommend making a breakfast hash using leftover stuffing.
Cranberry sauce can be swirled into your favorite muffin or pancake batter to add a dash of color and a splash of flavor. Another clever use is a barbecue sauce that starts with a base of leftover cranberry sauce. That link also contains a good tip on freezing leftover mashed potatoes to use as a topping for a future shepherd's pie.
For even more variety, you can spice things up with a recipe for tamales made with leftover turkey. If you have big "Black Friday" plans, fuel up with snacks including a banana pumpkin smoothie or try a twist on a game-day classic: turkey nachos with a spicy cranberry salsa. What is your favorite thing to make with Thanksgiving leftovers?
Seen anything interesting?
Let us know
& we'll share it!