Gabrielle Hamilton bucks the cookbook trend
November 6, 2014 by Darcie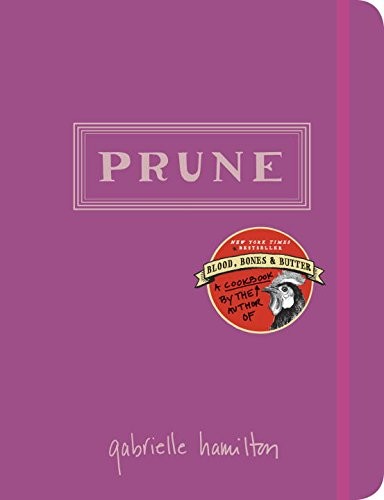 Gabrielle Hamilton is celebrating the 15th anniversary of her NYC restaurant Prune. Coinciding with this milestone is a cookbook named after the eatery. Prune goes against the trend of lavishly photographed, semi-autobiographical chef cookbooks aimed at home cooks, as The Washington Post notes in its discussion of Hamilton and the book.
When Hamilton began working on the cookbook, she attempted to write for the home cook. However, "in about 15 seconds flat, I realized I was lying my brains out," she said. "What I know and what I can really tell the truth about is what I've been doing every day for 15 years, which is cooking in a restaurant." So instead of writing to home cooks, she wrote to the audience she knew best: restaurant line cooks.
You won't find detailed headnotes or behind-the-scenes restaurant stories. Hamilton already provided much of that in her memoir Blood, Bones & Butter, so this time the aim was for "the antithesis of the "food porn" that celebrity chefs routinely use to cement their images." That doesn't mean the book is dry or dull, however. Annotations are written in Hamilton's own hand (the book is intended to replicate the restaurant's kitchen binders), and the cookbook is dotted with vivid descriptions of how the food should look, smell and taste.
Even though the book is written primarily to restaurant cooks, home cooks will likely find many of Hamilton's instructions informative. For example, she instructs her cooks to only use special cutting boards usually reserved for pastry: "I have tasted our fruit salad when one of you has carelessly used the all-purpose cutting boards, and no matter how well they were washed and sanitized, there can sometimes be a lingering, remote onion/garlic tinge." Other advice assumes equipment or materials not found in most home kitchens, or is only applicable to a restaurant (like sticking the ham used in a recipe in the oven if a health inspector arrives).
If you have eaten at the restaurant and were wondering if your favorite recipes are included, note that among the book's 250 recipes you will find many of Prune's most requested, including Grilled Head-on Shrimp with Anchovy Butter, Bread Heels and Pan Drippings Salad, and Prune's famous Bloody Mary (with all 10 variations).
Read the entire review, which also includes quotes from Ruth Reichl and a more detailed discussion of what you'll find in the cookbook.
Does the fact that Prune is the "antithesis of food porn" make you more interested in the book?