Move over tacos, here come arepas
October 22, 2014 by Darcie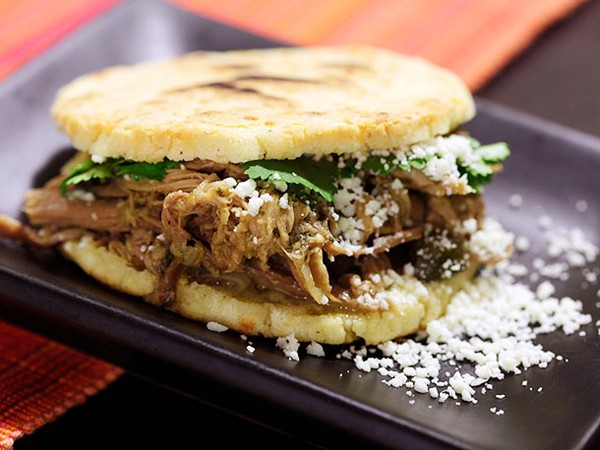 Riccardo Romero, the owner of NYC's Arepas Café, has a big dream: he hopes that arepas, the cornmeal cakes from his native Venezuela, seared on a griddle and stuffed with a dizzying array of fillings, may one day be as widely eaten as tacos. Indexed blog Serious Eats reports on the rise of arepas, the Venezuelan and Columbian sandwiches, which are quickly becoming popular across the U.S.
The "carb of choice" in Venezuela and Colombia, arepas de maiz are made with but three ingredients: pre-cooked corn flour (masarepa), water, and salt. Griddled and ready in a matter of minutes, the small, soft containers are filled with a wide variety of ingredients. Romero offers many traditional fillings like shredded, poached chicken combined with avocado and cilantro (reina pepiada), and stewed and shredded beef (carne mechada). He also offers unique combinations such as a breakfast version filled with scrambled egg, ham, cheddar cheese, fried sweet plantain, and avocado.
While most of us aren't going to be able to sample the Arepa King's deliciou sandwiches, we can make arepas at home, using recipes from the EYB Library. Here are some popular ones to try:
What's your favorite arepa filling?