Cookbook giveaway – The Slanted Door
October 11, 2014 by Darcie
Award-winning chef and restaurateur Charles Phan opened The Slanted Door in San Francisco in 1995, inspired by the food of his native Vietnam. Since then, The Slanted Door has grown into a world-class dining destination, and its accessible, modern take on classic Vietnamese dishes is beloved by diners, chefs, and critics alike. Now the eagerly anticipated The Slanted Door: Modern Vietnamese Food is finally here. Phan has penned not just a cookbook, but a love letter to the restaurant, its people, and its food. Featuring stories in addition to iconic recipes, The Slanted Door both celebrates a culinary institution and allows home cooks to recreate its excellence.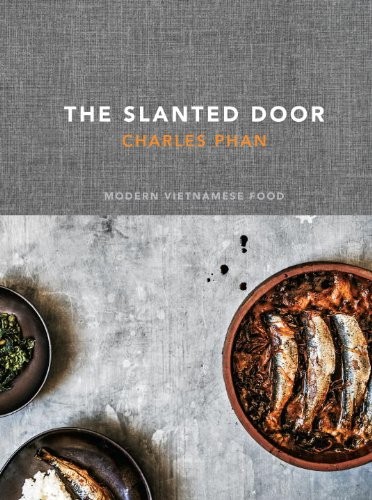 Phan has graciously provided EYB members a recipe excerpt from his cookbook, a first for EYB! Even better, we're delighted to offer two copies of the book to EYB Members in the USA and Canada only. Enter by clicking on the contest below the recipe. Please note that while one of the entry options is to answer a question in the comments, you must enter through Rafflecopter or your entries won't be counted. The contest ends November 8, 2014.
————————————————————————

Ginger Beef Vermicelli from The Slanted Door by Charles Phan
About ten years ago I met up with restaurateur Bobby Chinn, the London educated New York stock trader who eventually found his calling as a chef. His hugely successful Restaurant Bobby Chinn opened in 2001 in Hanoi, and he followed up a decade later with a location in Saigon. When I visited him in Hanoi, we hopped on his scooter and he took me to a street stall where a woman was stir-frying beef and garlic, which were served over noodles. The key to her delicious dish was getting a caramelized crust on the beef without burning the garlic. At the Slanted Door we do this by stir-frying the beef and garlic separately, but at home, just give the beef a quick stir-fry before adding the garlic.
6 ounces bavette or flank steak, thinly sliced on the diagonal
4 tablespoons canola oil
1 teaspoon cornstarch
Pinch of kosher salt
Freshly ground black pepper
3 cloves garlic, thinly sliced
2-inch piece of fresh ginger, peeled and julienned
2 teaspoons fish sauce
3 cups cooked rice vermicelli
Flavored fish sauce for serving
For serving:
Lettuce, torn
Roasted, unsalted peanuts

Serves 2 to 4
In a medium mixing bowl, combine the beef slices, 1 tablespoon of the oil, the cornstarch, salt, and a few grinds of pepper. Use your hands to toss together and set aside.
Heat a wok or skillet over medium-high heat until a drop of water evaporates on contact. Add 1½ tablespoons of the oil and heat until shimmering. Add half the beef and cook, stirring, until the beef is browned, about a minute. Add half the garlic, half the ginger, and half the fish sauce and continue cooking until the beef is cooked through, about 2 minutes. Transfer to a bowl. Repeat with the remaining oil, beef, garlic, and fish sauce.
Serve the beef on top of the vermicelli, and a bed of torn lettuce. Sprinkle with peanuts, and serve with flavored fish sauce alongside.
—————————————————————————————————