September 2014 Cookbook Roundup
September 24, 2014 by Susie
Every month Susie Chang reviews new cookbook releases and notes trends in the United States. And she may also occasionally throw in a review of a "not-quite cookbook." And for our non-U.S. members, Jane and Fiona provide similar reviews for new Canada, U.K., Australia, and New Zealand releases.
US
Hold on tight! Fall cookbooks are coming in profusion. September seems to be the month when the professionals get their turn in the sun – chefs, veteran authors, bakers. Expect to be nudged toward upping your game with handmade pasta, Icelandic authenticity, restaurant-worthy seafood, and pastry at home. But if six ingredients is more your style, there's always Nigel Slater's book.
Eat: The Little Book of Fast Food by Nigel Slater: Lyrical Slater goes for the quick-and-dirty approach with a compendium of weeknighters.
What to Bake & How to Bake It by Jane Hornby: An oven sequel to Hornby's popular What to Cook & How to Cook It.
Jamie Oliver's Comfort Food: The Ultimate Weekend Cookbook by Jamie Oliver: Actually, I'm willing to bet that what Jamie does on weekends is write cookbooks. I don't know how the man manages to publish two or three a year on top of all the other things he does.
Nick Malgieri's Pastry: Foolproof Recipes for the Home Cook by Nick Malgieri: Malgieri brings his platonically perfect confections and easy-to-follow instructions to a place where many home cooks fear to tread.
Bitter: A Taste of the World's Most Dangerous Flavor, with Recipes by Jennifer McLagan: More contrarian fun from the author of Bones, Fat, and Odd Bits.
North: The New Nordic Cuisine of Iceland by Gunnar Karl Gíslason and Jody Eddy: In the spirit of the much-vaunted Noma cookbook and equally daunting to approach. One for the coffee table.
Shroom: Mind-bendingly Good Recipes for Cultivated and Wild Mushrooms by Becky Selengut: The author of Good Fish is back with another appealing single-ingredient volume, with multicultural recipes for a variety of popular fungi.
Vegetarian Dinner Parties: 150 Meatless Meals Good Enough to Serve to Company by Mark Scarbrough and Bruce Weinstein: For those of us whose fallback position is always a roast (or failing that, a stew), a glimpse of a kinder, less bloody world.

Flour and Water: Pasta by Thomas McNaughton: The San Francisco chef debuts with an artisan approach to pasta.
A Boat, a Whale & a Walrus: Menus and Stories by Renee Erickson and Jess Thomson: The Seattle restaurateur offers up a chic, friendly volume with a maritime theme.
Recipes From My French Grandmother: Authentic Dishes from a Classic Cuisine by Elizabeth Wolf-Cohen: Somewhat predictable but nicely articulated collection of Gallic favorites from the international series.
Seriously Delish: 150 Recipes for People Who Totally Love Food by Jessica Merchant: A first book from the popular blogger of How Sweet Eats.


Danielle Walker's Against All Grain: Meals Made Simple by Danielle Walker: The popular gluten-free, dairy-free, paleo blogger is back with a collection of recipes guaranteed to harm no one.
School of Fish by Ben Pollinger: The chef of Oceana takes on a slippery subject, focusing on fish you can find even if you're not a chef.
The Make Ahead Cook by America's Test Kitchen: The folks at the Test Kitchen are back with more than 150 exhaustively-tested recipes for time-pressed cooks.
Sweet Alchemy: Dessert Magic by Yigit Pura: The inaugural cookbook from the winner of the first season of Bravo's 'Top Chef: Just Desserts.'
Easy Gourmet by Stephanie Le: Another first effort from a blogger, this is by the creator of I am a Food Blog. Easy Gourmet is full of updated modern twists on your favorite classics like Chicken and Waffles, Maple-Glazed Duck, Miso Cod and Quinoa, and Sriracha Hot Wings.
Cultured Foods for Your Kitchen by Leda Scheintaub: Riding the fermentation wave, this book is filled with recipes to enliven your cooking with pickles, yogurt, kombucha, and beyond.
Brown Sugar Kitchen by Tanya Holland and Jan Newberry: This cookbook from the West Oakland, California soul-food outpost contains the restaurant's favorite recipes, from stick-to-your-rib comfort food to fresh seasonal salads.
Huckleberry by Zoe Nathan: Another cookbook from a California eatery (a bakery, to be more specific). Huckleberry features recipes that range from sweet (rustic cakes, muffins, and scones) to savory (hot cereals, biscuits, and quiche). True to the spirit of Los Angeles, many recipes feature health-conscious ingredients.
Robin Robertson's Vegan Without Borders by Robin Robertson: The vegan recipes in this book span the globe, representing the cooking traditions of more than twenty different countries of Europe, the Americas, Africa, the Middle East, India, and Asia.
Meat: Everything You Need to Know by Pat LaFrieda: Going to the opposite end of the spectrum, the third generation butcher and owner of a meatpacking business presents the ultimate book of everything meat.
The Language of Food by Dan Jurafsky: Stanford University professor and MacArthur Fellow Dan Jurafsky peels away the mysteries from the foods we think we know. Words like ketchup, macaron, and even salad become living fossils that contain the patterns of early global exploration.
One Pot by The Editors of Martha Stewart Living: If the language of food is complex, this book aims to keep things simple, with low-effort recipes organized by cooking vessel.

French Roots: Two Cooks, Two Countries, and the Beautiful Food Along the Way by Jean-Pierre and Denise Moulle: Spanning two continents, this memoir/cookbook chronicles Jean-Pierre and Denise Moullé from their backgrounds in France to the San Francisco Bay Area where Jean-Pierre was appointed executive chef at Chez Panisse in the 1970s.
The Skinnytaste Cookbook by Gina Homolka: The first effort from the creator of the Skinnytaste blog (indexed on EYB).
Sugar Rush by Jonny Iuzzini: James Beard-award-winning pastry chef goes back to the basics for this book with step-by-step photographs for fundamentals like butter cake.
The New England Kitchen by Jeremy Sewall and Erin Byers Murray: Boston chef Jeremy Sewall presents contemporary versions of New England classics, for example turning an oyster stew into Creamy oyster stew with fennel.
Apples of Uncommon Character: Heirlooms, Modern Classics, and Little-Known Wonders by Rowan Jacobsen: A rundown of fall's favorite fruit in all its glorious variety and history.
Kale, Glorious Kale by Catherine Walthers and Alison Shaw: Poor kale can't get a break! Who would ever thought the austere crucifer would ever be so popular? Buy the book, but leave a little kale on the shelf so that there won't be a seed shortage again next year.
Pork by Cree LeFavour: Focusing on the versatility of the pig, this book features recipes organized by flavor profile, including American, Bistro, Latin, Chinese and Japanese, and South and Southeast Asian.
Della Fattoria Bread by Kathleen Weber: Here you'll find recipes for the popular breads of this award-winning bakery.
UK
How to be a Better Cook: 100 Quick and Easy Recipes by Lorraine Pascale: A tie-in with Lorraine's new BBC2 TV series, this is another guide to creating effort-free food – whether for everynight or special occasions.
Tessa Kiros: The Recipe Collection by Tessa Kiros: A carefully curated selection of recipes from the author's culinary publishing career to date, pulled from some of Tessa's most popular books, The Recipe Collection focuses on the recipes she has lovingly collected and created on her many travels. See the EYB contest to win one of 6 copies of the book (UK and Aus only). And read Tessa's EYB interview about the book.
River Cottage Light and Easy by Hugh Fearnley-Whittingstall: A collection of dairy-free and wheat-free recipes that will "give you a lift and make you glow from the inside out."
Mary Berry Cooks the Perfect by Mary Berry: 100 failsafe recipes with step-by-step photographs to guide you to the perfect version along with tips and advice on how to organise your space and plan your cooking for the best results.
Plenty More by Yotam Ottolenghi: No EYB member probably needs a reminder that Ottolenghi's latest book is now available (Oct 14 for USA/Canada release). 156 new vegetarian recipes.
Dabbous: The Cookbook by Ollie Dabbous: From London's most-talked about restaurant (before Chiltern Firehouse became the hottest), this cookbook is highly anticipated. We may not cook from it but we can admire.
Two new books this month from master patissier Eric Lanlard, both gift editions of previously published books (the US editions are published Oct 7).
Totally Chocolate: 60 Deliciously Seductive Recipes: 60 recipes in a gift edition of the best chocolate recipes from Eric Lanlard's Chocolat.
Couture Cupcakes: 60 cupcakes recipes from Cox, Cookies and Cakes where Lanlard teamed up with fashion designer Patrick Cox to create cupcakes like you've never seen them before.
Vegetarian Curry Easy by Madhur Jaffrey: Following on from her bestselling cookbook, Curry Easy, Madhur is back with 200 brand new meat-free dishes and proves, yet again, how easy it is to cook authentic Indian food at home.
Comptoir Libanais Express by Tony Kitous and Dan Lepard: Quick recipes from the chef and owner of Lebanese restaurant Comptoir Libanais as well as other London restaurants.
Scandinavian Baking by Trine Hahnemann: Here are authentic Scandinavian recipes with a modern twist, shot on location in Scandinavia. The book is suffused with 'hygge', a Danish word that has no English equivalent but means cosiness, or relaxing with friends over good food and drink.
Chocolate at Home by Will Torrent: Covering the history and provenance of chocolate, the varieties available, and the techniques needed to turn it into beautiful and mouthwatering creations, this book will inspire you to try all sorts of chocolate recipes.
Top With Cinnamon by Izy Hossack: Izy Hossack isn't your regular 18 year old – she has been food blogging since her early teens. This is her first cookbook – a mix of healthy and indulgent recipes.
The Essence of French Cooking by Michel Roux: In this very personal book, Michel Roux distils a lifetime's knowledge into a definitive work on French food and cooking. Michel gives modern interpretations of classic dishes, with his favourite variations and accompaniments.
Chicken: The New Classics by Marcus Bean: As the cost of meat rises, chicken consumption soars. Marcus Bean wants you to step away from your regular chicken recipes, As well as loads of new recipes, he gives advice on mastering techniques such as smoking and spatchcocking. This book is also published in the USA this month.
Crumb: The Baking Book by Ruby Tandoh: The runner up in last year's Great British Bake Off now writes about a simpler type of baking. Ruby encourages novices and seasoned bakers alike to roll up their sleeves and bake – even if they don't have the proper equipment or know-how.
Seaweed in the Kitchen by Fiona Bird: The former BBC Masterchef finalist delves into a topic not usually associated with Britain.
What to Bake and How to Bake It by Jane Hornby: The ultimate cookbook for amateur bakers looking to master the classics and expand their repertoires. Each of the 50 recipes is accompanied by photographs of the ingredients, a clear image of every step and a finished dish shot, ensuring foolproof results every time. Also published in USA this month.
National Trust Complete Books – Puddings and Desserts by Sara Paston-Williams and Pies, Stews and One-Pot Meals by Laura Mason: Two collections of classic British recipes from the National Trust.
Ireland
Kevin Dundon's Back to Basics by Kevin Dundon: The Irish TV chef explains and demonstrates the core cooking techniques, thereby opening up a vast repertoire of dishes to every cook. This book accompanies the primetime RTE1 series, with 8 programmes of 30 minutes each.
The Nation's Favourite Food – Fast by Neven Maguire: Fast, everyday cooking from one of Ireland's top celebrity chefs.
Dinner: The Irish Times Selection by Domini Kemp: This is the definitive collection of Domini's best dinner recipes, taken from her very popular Irish Times column – an array of quick, easy, accessible recipes that cater for all tastes, from meat and two veg to more exotic dishes.
Sláinte: The Complete Guide to Irish Craft Beers and Cider by Caroline Hennessy and Kristin Jensen: Craft beers are taking off all over the world and Ireland is no exception. This guide introduces you to the personalities behind the bottles and helping you to match it with food and use it in your cooking.
Bake Like an Italian by Catherine Fulvio: Ireland's favourite Italian chef brings you traditional, classic dishes alongside recipes with more modern twist as she delivers breads, pizza, cakes, light bites and pasta bakes.
Canada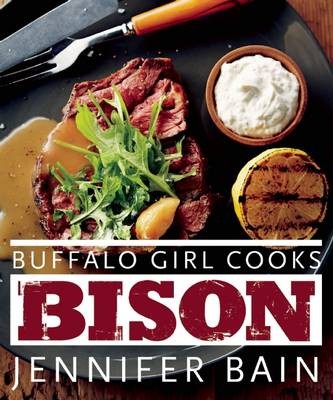 Buffalo Girl Cooks Bison by Jennifer Bain: Naturally lean, bison has less fat and fewer calories than rival meats, plus more protein and iron, and it is high in omega-3 essential fatty acids. Jennifer's family has a bison ranch and she here shares 100 recipes for using America's original red meat.
Australia & New Zealand
Through the Seasons: Annabel Langbein the Free Range Cook by Annabel Langbein: Accompanying season 3 of her Free Range Cook TV Series, Annabel's new book is Inspired by a year of fresh seasonal harvests from her garden on the shores of Lake Wanaka. She has created more than 200 easy but enticing recipes, many of which just happen to be gluten-free or vegetarian. With menus for every occasion, plus hundreds of Annabel's trademark clever tips and tricks, this is more than just a cookbook – it's a toolkit for a good life. Enter our contest for a chance to win a copy of Annabel's book and read her interview about the book.
Adam's Big Pot: Easy Meals for Your Family by Adam Liaw: If your family meals are getting boring this is a great book to expand your repertoire – with Vietnamese salads and simple South African curries, to Korean grilled pork belly and one-pot Japanese classics. All the recipes can be made from basic supermarket ingredients and use just one big work, pan, dish or pot.
Utterly Delicious Simple Food by Belinda Jeffery: If you like to use seasonal ingredients Belinda's new book will give you all the culinary inspiration you will need to see the year through. Tea-smoked salmon glazed with wasabi butter in summer through to slow-cooked Turkish lamb with prunes, saffron and cinnamon in cooler months. With plenty of sweet treats to finish off the meal.
MoVida Solera by Frank Camorra and Richard Cornish: The next best thing to visiting this beautiful part of the world – is to read about Frank's journey through Andalusia in the south of Spain. He meets the food and wine producers, farmers, fishermen, chefs and cooks who share the recipes they have cooked in their kitchens for generations. He visits riotous spring festivals, lively markets and peaceful sherry bodegas, and reveals his favourite places to eat, drink and stay.
Green Kitchen Travels: Vegetarian Food Inspired by Our Adventures by David Frenkiel and Luise Vindahl: David, Luise and their daughter travels around the world inspired the recipes in this book. With indulgent almond pumpkin waffles from San Francisco, raw beansprout pad thai from Thailand, and a Sri Lankan vegetable curry. The recipes are either vegetarian, vegan or gluten-free.
Good Without Gluten: Delicious Food, Gluten-free by Frederique Jules and Jennifer Lepoutre and Mitsuru Yanase: Gluten free recipes from the chefs at the Parisian restaurant and grocery store No Glu. Using a range of cereals, flours and clever flour mixes that are naturally gluten-free and healthy, they have developed over 65 delicious and nutritious recipes.
Chinese Cooking: Low carb Chinese meals by Charmaine Solomon: This book includes classic Chinese dishes with a low carb focus. This book gives you great ideas and easy-to-make recipes, focusing on great food that won't take your carb intake over your healthy daily requirement.
The Islands of Greece: Modern Greek Recipes by Rebecca Seal: Rebecca writes for several Australian and British publications. Her latest book shares her favourite recipes from her many trips around the Greek Islands, celebrating Greece's regional specialties. Using fresh produce and classic Greek flavours, you'll find classics like stuffed calamari or chargrilled aubergine salad, or experiment with a more modern pork souvlaki with apples and pancetta and polenta cake with figs and pine.
Matt's Kitchen Garden by Matt Moran: The market garden at his Sydney restaurant Chiswick, as well as time spent visiting producers all around Australia for his TV series Paddock to Plate, gave Matt the inspiration for his latest book. Recipes include seared kingfish with radish, avocado and wasabi and slow-cooked lamb with hummus, tomato salad and mint salsa.
The Essence of French Cooking by Michel Roux – Also published in the UK this month, Michel's book gives modern interpretations of classic dishes, with his favourite variations and accompaniments.
The latest from Australian Women's Weekly Weekly
Fast Fresh Vegetarian: Healthy, Meat-Free Meals in Minutes
Nibbles: Canapes, Snacks, Bites and Sweet Treats